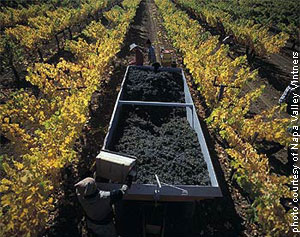 The 2006 Napa Valley Harvest Report
"I'm not going to tell you this is going to be the rocket wine of the world. It's not. But we think this is as good as any we've seen."
~ Cyril Chappellet, Chappellet Winery
by Alan Goldfarb
October 23, 2006
---
Like most wine producers,
Napa Valley
vintners are quick to pronounce -- with tongue only slightly in cheek -- that the current vintage is the best vintage.<!> During a mid-October press conference at a San Francisco hotel to discuss the harvest of 2006, nobody even hinted at such an exalted proclamation. But the air was full of comparisons to last year's harvest and the 1991 vintage even though most of this year's Napa fruit rests in tanks around the valley.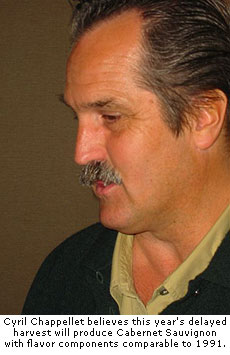 As of October 19, 80 percent of the Napa Valley's most important crop --
Cabernet Sauvignon
-- still clung to the vines. In spite of this, vintners are already extolling the virtues of the '06 vintage. If the rain holds off for the next two weeks -- always a bet against the house this time of year in Northern California -- it seems that consumers can expect some great wines from the 2006 vintage when they're released in three or four years.
Over the last several weeks I spoke with several vineyard managers, listened to a few vintners and winemakers at the press conference, and tasted some very early samples. I'm left with the initial impression that 2006 will produce wines with lower alcohols and higher acids than normally come out of the Napa Valley. But they'll be wines with intensity and concentration of fruit due to the long, late season that resulted from cooler-than-normal, but even temperatures during September and October. A one-day rainstorm the first week of October has left no noticeable affect on the vintage.
These are similar conditions to the 2005 season, as well as the '91. The latter vintage also had a long growing season, which resulted in some great, age-worthy wines with intense flavors, high tannins and good balance.
According to Michael Martini of the
Louis M. Martini Winery
, "I've been living here all my life -- this is what I do -- and I think '06 will produce long-lived wines."
Cyril Chappellet of
Chappellet Winery
on Pritchard Hill said his vineyard thus far has seen even ripening from vine-to-vine and block-to-block. But he called this year's vintage, "a great challenge," because of the lateness of the Cabernet harvest. "I'm not going to tell you this is going to be the rocket wine of the world. It's not. But we think this is as good as any we've seen. I compare it to '91, not so much for the climatic similarities, but for the flavor components."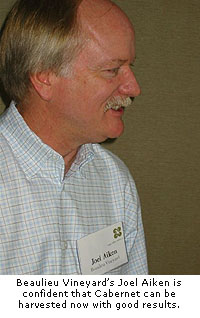 Joel Aiken
, winemaker at
Beaulieu
concurred, saying "They can make good wine with what's out there now. But they're leaving it on the vine by choice."
The "choice" is to let the Cab stay on the vine a little bit longer and if the rains don't come, the flavors to which Chappellet alluded should be there in the end; and just as important, they'll still come in with high acidity and without the astronomical sugars that normally drive up alcohol percentages.
Another issue that concerns most growers in the Napa Valley was the predicted grape glut. The general consensus is that another impending grape glut -- as predicted by some -- probably won't happen.
There are a couple of reasons for this. First, Napa's fruit is at the high end of the price and quality spectrum; and most varieties will be down from between 5- to 10-percent as compared to last year. But Aiken, who acknowledged that his
Carneros
Pinot Noir
vineyards produced a 10 percent heavier crop than last year, said that "normal crop" is not a phrase he uses.
"I won't say normal, because I don't know what normal is any longer," he said.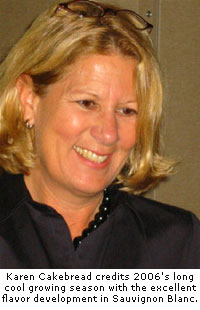 As for the other grape varieties, Hugh Davies, whose
Schramsberg Vineyards
is a leading producer of sparkling wine, said the '06
Chardonnay
has a moderate crop load, "lifted" (pronounced) fruit, and a modest acidity range.
According to
Peter McCrea
, whose family has been farming Chardonnay on
Spring Mountain
for 55 years, the grapes in his vineyard "have more fruit and better acids" than in past vintages.
Stony Hill's
Riesling
was late and it developed some botrytis -- a mould that develops as a result of humidity but is desirable because it produces intense wines.
According to
Cakebread Cellars'
Karen Cakebread, the cooler season was "ideal" for
Sauvignon Blanc
, producing clean fruit, balance, and excellent flavor development. The heat spike in mid-July had "no negative affect". In fact, Karen proclaimed '06 a "textbook year," an "awesome year," and a "fabulous" vintage.
Aiken said that Pinot Noir, "does better in cool years because we don't have a problem with ripening." He pointed out that despite the cool weather, BV picked its Pinot at 27.3 Brix, which is high, but that the pH was a very low 3.18.
In the end, my prediction for 2006 is for wines with beautiful fruit that will be some of the most evenly balanced in years.
~ Alan Goldfarb, Regional Correspondent – Napa Valley
To comment on Alan Goldfarb's writings and thoughts, contact him at
a.goldfarb@appellationamerica.com