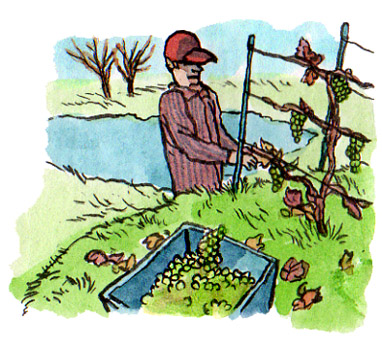 Riding the Crest of Riesling's Resurgence: Leelanau Peninsula producers discuss dynamics
"We chose a southeast exposure so the vines begin to warm up in the morning. Riesling is the last variety we harvest and it's a miracle if there are still leaves on the vines when we pick it."

~ Bruce Simpson, Good Harbor Vineyards
by Eleanor & Ray Heald
November 17, 2006
---
<!>
Eleanor & Ray Heald (ERH):
Including various styles, dry, semi-dry, dessert and sparkling, describe Riesling from Michigan's Leelanau Peninsula AVA.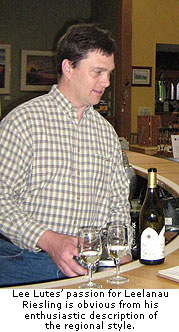 Lee Lutes (LL):
For young, dry-style and semi-dry
Riesling
from the Leelanau Peninsula, I'm looking for bright citrus, grapefruit, lime characteristics early in bottle development. The AVA is blessed with all the elements that allow Riesling to age well, developing peach and apricot characters.
Even after six months in bottle, I like to see our Riesling a little snug with crisp fruit and brighter high notes of apple, peach and citrus, then evolving over time to open up into the riper components of those same fruits, but moving away from citrus to other ripe tree fruits.
Although Black Star Farms is sourcing Riesling from
Old Mission Peninsula AVA
vineyards now, when we first started, all our fruit was Leelanau. Thus, I'm able to show an example from the 1998 vintage. Fruit flavors are different than what we saw early in the bottle, especially with honeyed richness and petrol (terpene) characteristics.
ERH:
At what age do terpene qualities develop in Leelanau Peninsula Rieslings?
LL:
It depends on the vintage and the vineyard. Generally, terpenes appear at about two years bottle age. Riesling was quite ripe in 1998 because it was a warm vintage. Yet, our 2005 from a warm vintage, while still very tight, is beginning to show terpene characters.
---
Wine Review
1998 Black Star Farms Semi-Dry Leelanau Peninsula Riesling $12 (no longer available). Winemakers agree that attractive terpenes have developed and the wine has held together well with a honeyed richness.
---
ERH:
How does the particular vineyard impact the characters which Lutes referenced?"
Adam Satchwell (AS):
In Leelanau, there's a wide variety of soil types. But speaking for Shady Lane Cellars, I have two major Riesling blocks in close proximity but the fruit from each is quite different.
ERH:
And what's creating that difference?
AS:
That's something I'm still trying to determine. My guess is that it's primarily exposure because soil types, soil pH, clones and time of planting are identical.
ERH:
What are the exposure differences?
AS:
Although both blocks are west-facing, one block is located in the corner of the property, so it's more wind sheltered and slightly higher in elevation. It shows terpenes earlier on. Also, this block does not ripen as quickly as the other.
Charlie Edson (CE):
I agree with Adam [Satchwell] that site is important. All of Bel Lago's Riesling is sourced from south-facing slopes. We have abundant shale on this site and the wines show a mineral element.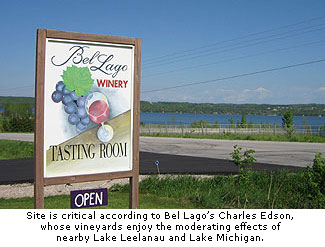 We make a late-harvest, sweet-style Riesling from this fruit, so we are looking for more terpenes, peach, apricot and honey characters to develop early in the bottle, but we do get citrus early on also.
On our site, we have marginal potassium ion (K+) in the soil. Thus, we get low pH at picking [slightly under 3 in 2004 and barely over 3 in 2005]. I've not attempted to correct this because I like the lower pH levels. It seems in riper vintages like 2005, that ripeness did not impact the pH much. With titratable acidity (TA) at 7g/L, the pH was 3.04 in 2005.
We rely on crisp acidity to balance sweetness in our late-harvest style.
---
Wine Review
2004 Bel Lago Leelanau Peninsula Riesling $9/375mL. Harvested at 17° to 18° Brix, the wine was bottled with a TA of 9g/L and 6.2RS upon addition of sweet reserve. It comes across balanced with subtle peach and apricot aromas and flavors.
2005 Bel Lago Leelanau Peninsula Riesling $9/375mL will be released in January-February 2007. Harvested at 20°-21° Brix, it has 6.7RS in the bottle. Citrus, lime and lemon characters are apparent in this young late-harvest wine with peach, apricot and slight pineapple notes developing in an attractive, lengthy rendition.
---
AS:
Although sugar levels and TA can be quite different in our two Riesling blocks, the pH, regardless of vintage, is 3.1 at picking.
Bruce Simpson (BS):
Good Harbor Vineyards
Riesling [labeled White Riesling and Leelanau Peninsula appellated] shows a lot of citrus and mineral notes.
ERH:
To what do you contribute the minerality?
BS:
It is more the exposure of the vineyard, that we planted in 1980, than the soil. We only make a late-harvest style so I want crispness and a pH in the range of 2.9 to 3 with a TA of 11g/L. Biologically, the wine is very stable and we crush without SO2 addition, but we never get really ripe fruit flavors and the wine remains more citrus than peach.
---
Wine Review
2005 Good Harbor Leelanau Peninsula White Riesling $13.25 has a low alcohol of 10.5% and 3.5 RS. It was sorbated prior to bottling. It's highlighted by generous appley fruit with lychee notes. Apple pie spice notes complement a full, plump and generous mouthfeel.
---
Shawn Walters (SW):
I'm mirroring everything that Bruce [Simpson] said. There's a lemon drop character in
Leelanau Cellars
late-harvest Riesling. One of our goals is to make Icewine in limited quantity when possible.
---
Wine Review
2005 Leelanau Cellars Winter Harvest Riesling Icewine $50/375mL. Picked at 44° Brix in early 2006, the bottled wine has 24%RS. Fermented on R-2 yeast, the well-balanced wine sports layers of flavors including honey, apricot, ripe peach, coconut, tropical fruits and lychee.
---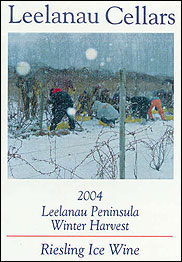 ERH:
What are other details about your Leelanau Peninsula AVA Riesling vineyard sites?
CE:
The southern exposure is very important.
BS:
We chose a southeast exposure so that the vines begin to warm up in the morning. Riesling is the last variety we harvest and it's a miracle if there are still leaves on the vines when we pick it. That's why sometimes we do get winter vine injury. The vine does not have sufficient time to store carbohy