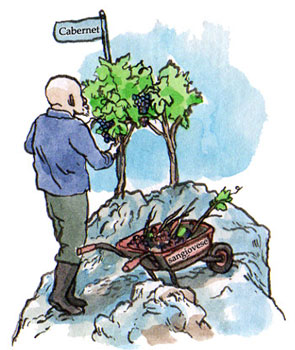 Atlas Peak ~ Napa Valley (AVA)
Cabernet at its Peak: Darren Procsal carves out a new image for Atlas Peak Winery
"We don't have to keep pushing uphill as far as Sangiovese is concerned. We can go in another direction with Cabernet."

~ Darren Procsal, Atlas Peak winemaker
by Alan Goldfarb
November 22, 2006
---
It makes perfect sense that the folks at
Atlas Peak Winery
are looking to change its image. But what is less clear is the path which they have chosen to take the winery from being known as an American
Sangiovese
house to a property which makes mountain Cabernets.<!> Plus, it isn't enough, apparently, to try and make fine Cabernets from its own appellation --
Atlas Peak
. But, the suits at Beam Wine Estates, APW's corporate owners, thought it best to produce
Cabernets
from some other of the Napa Valley's mountain regions, as a way to put space between its former self as an early progenitor of Sangiovese and its desired new role as a player in the Cab world.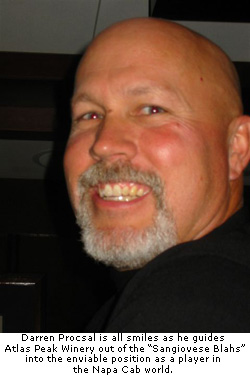 We can't blame APW for wanting to eschew all vestiges of its earlier life as an American Sangiovese producer. After all, the Italian variety here seems all but road kill, save for a few holdouts. Which is more the pity, considering how long it's taken
Pinot Noir
to emerge as a viable grape in California. Nonetheless, as we are all too aware, button-downed corporate entities, by their nature, don't leave room in their culture for such protracted R&D.
Enter Darren Procsal, a skilled and obviously astute winemaker, who inherited APW's Sangiovese yolk, and who also put forth the notion to Beam's marketers that the way to bolster his winery's cachet was to concentrate -- really concentrate -- on making great Cabs. And what better way to do that than to use intense mountain fruit to achieve that goal?
By doing so, sourcing grapes from two- and three-acre undisclosed vineyards on
Mt. Veeder
,
Spring Mountain
and
Howell Mountain
(with a contract looming with a Diamond Mountain grower), and its own 125-acre vineyard on Atlas Peak, APW believes it has its best chance to become a Cabernet factor among the stars in America's greatest Cabernet country. The idea is that the winery would then -- and only then -- bring attention back to itself, and by extension, to the Atlas Peak American Viticulture Area; but not as a Sangiovese growing region, as Cabernet hallowed ground.
Thus, APW has embarked on a program of producing mountain Cabernets from "high elevations," to achieve its clever marketing slogan, "Cabernet At Its Peak."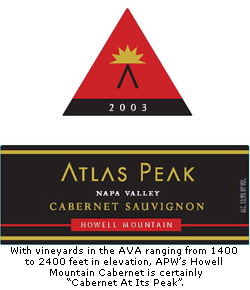 It's not unlike what some others in the Napa Valley are doing. The brand calling itself
Thirteen
, for instance, is making wine from 13 of the valley's AVAs. Or what
Conn Creek Winery
is doing, attempting to make unblended Cabernet from all 14 of the valley's sub-regions.
(See Alan Goldfarb's report on Conn Creek's single-AVA program.)
The difference at APW, though, is that its plan is to make only mountain Cabernets. It's a worthy endeavor since the conventional wisdom has it that mountain fruit produces the most intense, and therefore best, grapes. As with Conn Creek's project, the APW strategy can only enhance terroir-driven wines; while at the same time, give a boost to what it perceives as an image problem.
Or, as Procsal (pro SELL) himself said recently at a downtown San Francisco restaurant, with no pun intended I'm sure: "We don't have to keep pushing uphill as far as Sangiovese is concerned. We can go in another direction with Cabernet."
Earlier, Procsal, who joined APW in 2002, told me, "We want to show people the exciting changes going on at
Atlas Peak
. We've worked very hard for the last three years sourcing fruit from mountain vineyards and making those wines side-by-side with grapes from the Atlas Peak vineyard."
But what happens in the eventuality that the wines from those other AVAs outshine the Cabs made from APW's estate?
"We're not afraid to source grapes from other appellations … We want to show people that Atlas Peak (the winery and the region, presumably) is capable of making world-class Cabernet," he responded. "(But) I had no idea of Atlas Peak producing Cabernets of this quality. I'm not concerned that these others might show better (because) we want to show the textural differences.
"… We have enough confidence (that) Atlas Peak will hold its own. Never in the deepest recesses of my mind would we be second to these others. It's the last undiscovered Cabernet in the Napa Valley."
Indeed, during the tasting that evening in San Francisco, Procsal put up his '03 Claret from APW's estate vineyard against the trio from the other mountain regions. While it fared well juxtaposed with the other three wines, it differed in that it was the only one of the four that had
Merlot
(34 percent) in the blend. (The others, including the APW Claret, have from 2- 3-percent
Petit Verdot
. It was the only one also, whose listed alcohol percentage is at 14.2, while the others are said to be 13.9). Those others too, according to Procsal, underwent the same regimen in the cellar (the same yeast strains, and all were unfined and unfiltered. However, the barrel regimens differed).
All fruit was picked at between 25- and 26-percent Brix (degree of sugar) and all were from the '03 vintage. Production levels varied from less than 300 cases to more than 500 cases. All sell for $86.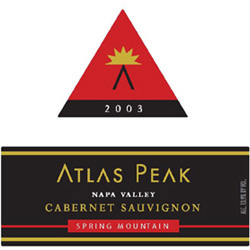 The
Claret
was the most approachable of the quartet. The Spring Mountain and Howell Mountain wines need at least three years to sort themselves out, but will age well, I believe, for up to 25 years. The Mt. Veeder is showing perhaps the most definitive terroir exp