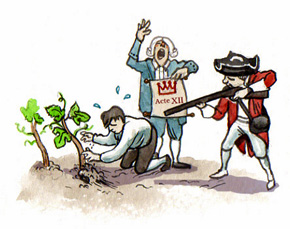 Virginia Wines Wow the Brits
As the Virgina wine industry quickly matures, the State's wines are attracting attention far beyond the U.S. borders. A recent London tasting was an eye-opener for some tough critics.
by Barbara Ensrud
June 5, 2007
---
A
s America marks an impressive moment in history - the 400th anniversary of the Jamestown settlement in Virginia - few realize that a principal aim of the colony was to establish winegrowing in the New World, in the hope of supplying good wine for English tables. Hopes were high, since wild grapes in profusion had been sighted along the mid-Atlantic coast in the previous century by Sir Walter Raleigh.