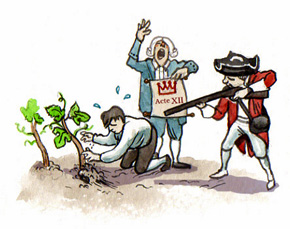 Virginia Wines Wow the Brits
As the Virgina wine industry quickly matures, the State's wines are attracting attention far beyond the U.S. borders. A recent London tasting was an eye-opener for some tough critics.
by Barbara Ensrud
June 5, 2007
---
A
s America marks an impressive moment in history - the 400th anniversary of the Jamestown settlement in Virginia - few realize that a principal aim of the colony was to establish winegrowing in the New World, in the hope of supplying good wine for English tables. Hopes were high, since wild grapes in profusion had been sighted along the mid-Atlantic coast in the previous century by Sir Walter Raleigh.
An enterprising idea, to be sure, but it took nearly four centuries to prove it could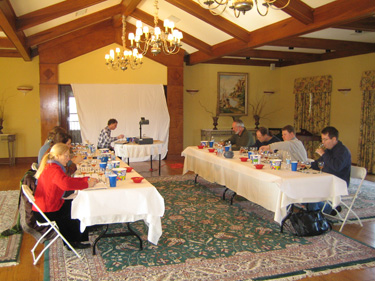 be done. On May 2, 2007,
Virginia
presented 64 of her best current wines at a tasting in London attended by over a hundred members of England's wine press and wine trade. By all accounts, the wines were a hit with the Brits, who found them "surprisingly impressive," "elegant," "fragrant" and "promising," among other accolades, certainly worthy to grace English tables; indeed, those anywhere in the world.
"This tasting clearly established Virginia as a quality wine region in the minds of leading opinion shapers in the U.K. wine trade," noted Richard Leahy, executive director of the Virginia Wine Experience in London.
Among the top Brit journalists who attended the tasting were best-selling wine book author Hugh Johnson, and Steven Spurrier, Andrew Jefford and Stephen Brook of
Decanter
Magazine.
"The Virginia tasting was a real eye-opener for all of us," noted Steven Spurrier in an email to me from England. "I think all the tasters agreed that
Viognier
was the real star, then, for me, the Bordeaux blends." The Brits also liked Virginia
Chardonnay
s,
Petit Verdot
, and "a very good
Cabernet Franc
."
Spurrier, rating the wines on a 20-point scale, as do many British critics, gave some 23 of the wines scores of 16 to 17.5 - high marks indeed. "Possibly due to the pleasant surprises in the glass," he further noted, "and also to the charm of the people who made it to London, my marks might be a tad generous were the wines to be thrown into an international competition, but one thing is clear: they were very good to drink."
Yes, Virginia, Our State Makes Delicious Wines
In recent years, Virginia has produced very appealing blends made from Bordeaux varieties—
Cabernet Franc
,
Cabernet Sauvignon
,
Merlot
and
Petit Verdot
. But Virginians have also made impressive versions of these grapes as single varietals. Cabernet Francs impressed the Brits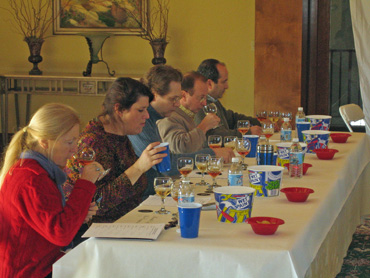 with their balance and fine, lively fruit. Petit Verdot surprised them as well. Hugh Johnson was so impressed with the 2005 Veritas Petit Verdot that he asked to take a bottle with him. So granted!
The tasting established Virginia wine both geographically and stylistically, according to Richard Leahy. "Virginia is situated between Europe and the West Coast," he said, "and the tasters in London really understood that. Traditionally, the British think of American wines in the context of the West Coast, with higher alcohol and lower acid levels than we typically get in Virginia, so our wines are seen as a refreshing change."
The event was formulated and funded by six
Virginia
wineries—Keswick Vineyards, Kluge Estate, Pearmund Cellars, Veritas, White Hall Vineyards, and Williamsburg Winery, who held a blind tasting of 88 wines from 33 wineries to select the 64 wines for the tasting.
The theme of the Virginia Wine Experience in London was "Virginia, First in Wine" – a reference to the Jamestown experiments in winegrowing. Virginia's claim of "First in Wine" does in fact date to 1619. Though earlier settlers - notably the Huguenots on the Florida coast in 1562 and Spanish friars near El Paso a few years later - made wine from native wild grapes, the first commercial effort in the New World was at Jamestown. It was a primary aim of the Virginia Company of London, the group of entrepreneurs who established the New World settlement.
"Acte Twelve" (
see illustration at top
) of the colony's resolutions of 1619 ordered each male head of household (most of the Jamestown pioneers were men) to plant and cultivate 20 grape vines with cuttings brought from European vineyards. Failure to do so incurred stringent penalty, including death! Never mind that such efforts were unsuccessful, due to the same climatic conditions, pests and diseases that defeated Thomas Jefferson nearly two hundred years later.
A Modest Start Quickly Advances
Virginia's modern wine industry began modestly in the 1970s. The first
vinifera
grapes were planted - against the advice of experts - at Piedmont Vineyards near Middleburg. The industry struggled along, planting more
vinifera
but also hardy French hybrid vines, such as
Vidal Blanc
,
Seyval Blanc
,
Chambourcin
and others. These thrived to provide cash flow until more suitable sites for
vinifera
(higher ground for drainage and also to avoid frost-prone low sites) could be developed. With support from the state government and the help of technical experts such as viticulturalist Tony Wolf and enologist Bruce Zoecklin, the industry began to prosper and by the mid-1990s, several wineries - Barboursville, Horton, Jefferson, Linden, Naked Mountain, Oakencroft, Piedmont, Prince Michel, Rappahannock, Rockbridge and others were producing stylish, balanced Chardonnays, Viognier and Merlot.
Since then the industry has exploded, with impressive new wineries and estates such as White Hall Vineyards, Kluge Estate, King Estate, Pearmund Cellars, The Winery at La Grange and others. The state boasts 120 wineries today, with ambitious plans in the works at other sites in the state. On June 13-16, the University of Virginia in Charlottesville will present a program,
Virginia's Wine Legacy: From Jefferson to the Present
, including visits to leading wineries in the Monticello appellation.
The Virginians who went to the London tasting are excited about the Brits' response to the wines. "The fundamental reason we took our wines to London,"

READER FEEDBACK: To post your comments on this story, click here

Print this article  |  Email this article  |  More about Virginia  |  More from Barbara Ensrud