---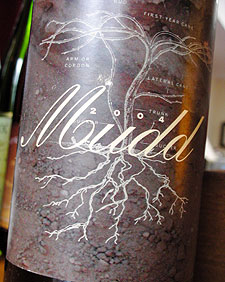 Channing Daughters Winery
2004 Mudd
(Hamptons Long Island)
In a region where Merlot and other Bordeaux varieties rule, Channing Daughters Winery is a decidedly white wine shop -- with a seemingly endless array of hand-crafted, small-production wines. They make several types of Chardonnay, from the steely, crisp Scuttlehole to the complex, intense L'Enfant Sauvage. They also experiment with some of the most unique blends on Long Island (or anywhere), including their "Clones" bottling which is a blend of Chardonnay, Sauvignon Blanc, Merlot, Pinot Grigio, Aligote and Gewurztraminer.

Winemaker Christopher Tracy focuses on white wines for all the right reasons -- he thinks that the local climate is more like the Friuli region of Italy than the oft-invoked Bordeaux region of France. He says that "Like Friuli, we are a maritime, cool-climate wine-grape growing region. This is an excellent opportunity for white grapes to achieve optimum ripeness, flavor and acidity levels year in and year out."

And, they put their money where their mouth is. Stroll through their fields and you'll see Tocai Friulano, Pinot Grigio and Pinot Bianco, along with other unique-to-Long Island varieties like Aligoté, Malvasia Bianca, and Muscat Ottonel. But, Tracy makes his share of red wines too, often flexing his blending muscles with those as well.

With this wine Tracy blended 61% Merlot, 28% Cabernet Sauvignon, 4.5% Blaufrankisch, 4% Cabernet Franc and 2.5% Dornfelder. His reds often feature a silky, luxuriant mouthfeel with spiciness. This blend fits that mold, but it seems bolder and richer than some of his other wines.

The wine is named "Mudd" because the Cabernet that goes into this wine always comes from the Mudd Vineyard in Southold on the North Fork, which was planted in 1975 primarily on its own roots. Unfiltered, it is medium crimson with a ruby rim. The nose overflows with red cherry and plum aromas accented by cinnamon and sweet oak. Lively cherry and raspberry flavors along with vanilla, oak, black pepper and noticeable acidity fill the mouth, with fine-grained tannins that are reasonably well integrated, though some bottle aging will reward the patient purchaser. The finish is lengthy and silky smooth.
Reviewed January 31, 2007 by Lenn Thompson.
Other reviewed wines from Channing Daughters Winery
---
Winery: Channing Daughters Winery
Vintage: 2004
Wine: Mudd
Appellation: Hamptons Long Island
Grapes: Merlot (61%), Cabernet Sauvignon (28%), Lemberger (5%), Cabernet Franc (4%), Dornfelder (2%)
Price: 750ml $40.00



Lenn Thompson

Lenn Thompson writes about New York wines for Dan's Papers,
Long Island Press, Long Island Wine Gazette, Edible East End and Hamptons.com. Two words describe his taste in wine — balance and nuance. Lenn prefers food-friendly, elegant wines to jammy, over-extracted fruit bombs and heavy-handed oak. When reviewing, Lenn tastes each wine three times — alone right after opening, with food, and again the next day — believing that 90-second reviews are unrealistic and not how the average person enjoys wine.