---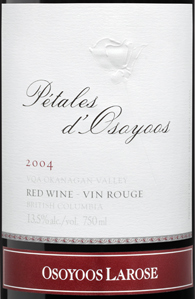 Osoyoos Larose
2004 Pétales d'Osoyoos
(Okanagan Valley)
Just released, this is the so-called "second wine" from the Osoyoos Larose winery in the Okanagan. This is in the tradition of Bordeaux where many of the chateaux have both a first label and a second label. The latter labels, which always sell at a discount, are wines made from new plantings or from wine left over when the master blend for the first label is complete.

Osoyoos Larose is a joint venture between Vincor and the big Bordeaux wine company, Groupe Taillan, whose major French property is Château Gruaud Larose. Hence, the French tradition – except that it was turned on its head in Canada. Osoyoos Larose debuted initially with its first label, Le Grand Vin, even though the grapes for the 2001 vintage came from three and four-year-old vines. Winemaker Pascal Madevon believed he had first label quality right from the starting gate.

The volume in the 2004 vintage, however, drove a decision to launch what he calls a "sister" to Le Grand Vin. He released 110,000 bottles of Le Grand Vin last fall (at $40 a bottle). To find a home for what did not fit into the master blend, he made 21,000 bottles of Pétales d'Osoyoos.

As is often the case with second label wines, this is by no means second rate. The aroma is rich and lively, showing black currants, plum, vanilla, chocolate and spice, all of which are echoed in the flavours. The wine is medium-bodied. Ready to drink now (the point of second label wines), it will also cellar nicely for a few years at least. 88 points.
Reviewed September 3, 2007 by John Schreiner.
Other reviewed wines from Osoyoos Larose
---
Winery: Osoyoos Larose
Vintage: 2004
Wine: Pétales d'Osoyoos
Appellation: Okanagan Valley
Grapes: Merlot (60%), Cabernet Sauvignon (26%), Malbec (6%), Petit Verdot (4%), Cabernet Franc (4%)
Price: 750ml $25.00



John Schreiner

John Schreiner has been covering the wines of British Columbia for the past 30 years and has written 10 books on the wines of Canada and BC. He has judged at major competitions and is currently a panel member for the Lieutenant Governor's Awards of Excellence in Wine. Both as a judge and as a wine critic, he approaches each wine not to find fault, but to find excellence. That he now finds the latter more often than the former testifies to the dramatic improvement shown by BC winemaking in the past decade.