---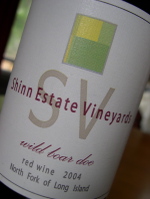 Shinn Estate Vineyards
2004 "Wild Boar Doe"
(North Fork of Long Island)
Too often, the term "food friendly" is meant as a negative in wine journalism — applied to wines deemed unable to bring pleasure on their own. This, of course, is absolutely ludicrous. It's impossible to separate the two. Food and wine are forever intertwined -- like Abott and Costello, peanut butter and jelly, or the Pittsburgh Steelers and Super Bowl rings. Labeling a bottling as "food wine" should be an accolade, not a comment on its overall quality.


Given their pedigree as restaurateurs, it's no surprise that David Page and Barbara Shinn, owners of Shinn Estate Vineyards in Mattituck, bring a chef's sensibility to winemaking. Each of their new releases is right at 'Home' (also the name of their Greenwich Village restaurant) on the dinner table.


The "Wild Boar Doe" (Boar Doe — Bordeaux. Get it?) ($22), is made with 40% merlot, 23% cabernet sauvignon, 17% malbec, 15% petit verdot and 5% cabernet franc.


Interesting and deeply aromatic, the abundant nose reminds one of local fresh raspberries with wisps of summer herbs and smoky black pepper. The palate is medium bodied and soft up front with peppery red raspberry flavors that lead to a medium-long finish with a little acidity. Sensible use of oak has preserved the fruit character and aromatics in this wine — a great choice in a cooler year. Drink now or over the next three to five years with stews or grilled meat.


David told me on a recent visit that they are focusing their style toward highly aromatic wines -- and this wine is most certainly in line with that.
Reviewed June 12, 2006 by Lenn Thompson.
Other reviewed wines from Shinn Estate Vineyards

Shinn Estate Vineyards


2007 Rosé, Estate
(North Fork of Long Island)
Lenn Thompson 5/27/2008

Shinn Estate Vineyards


2006 Rosé, Estate
(North Fork of Long Island)
Lenn Thompson 8/31/2007

Shinn Estate Vineyards


2004 Merlot, Estate
(North Fork of Long Island)
Lenn Thompson 12/12/2006

Shinn Estate Vineyards


NV RED
(North Fork of Long Island)
Lenn Thompson 4/25/2006
---
Winery: Shinn Estate Vineyards
Vintage: 2004
Wine: "Wild Boar Doe"
Appellation: North Fork of Long Island
Grapes: Merlot (40%), Cabernet Sauvignon (23%), Malbec (17%), Petit Verdot (15%), Cabernet Franc (5%)
Price: 750ml $23.00



Lenn Thompson

Lenn Thompson writes about New York wines for Dan's Papers,
Long Island Press, Long Island Wine Gazette, Edible East End and Hamptons.com. Two words describe his taste in wine — balance and nuance. Lenn prefers food-friendly, elegant wines to jammy, over-extracted fruit bombs and heavy-handed oak. When reviewing, Lenn tastes each wine three times — alone right after opening, with food, and again the next day — believing that 90-second reviews are unrealistic and not how the average person enjoys wine.