Chaddsford Winery: winery information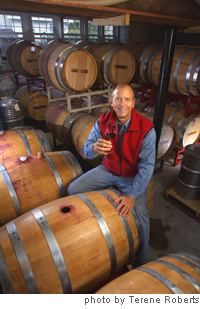 Winemaker: Eric Miller
Eric Miller developed his interest in wine naturally when, as a child, he lived near many of the famous vineyards of Europe. In the mid 1960s, after spending a year in the tiny village of Saint Romaine, Burgundy, his family moved back to New York's Hudson Valley where they founded the state's first farm winery, Benmarl Vineyards, and built it to national prominence in the 1970s. In 1981, Eric left New York to start Chaddsford Winery with his wife Lee, a wine journalist who had published "Wine East of the Rockies" and co-founded Wine East magazine.

For the Millers, the first step in founding Chaddsford Winery was to scour the east coast to find what they believed was the best grape growing region for their new venture. This journey brought them to the beautiful and historic Brandywine Valley in southeast Pennsylvania, and ultimately to the 17th century colonial barn that is still the winery's home. Today, the Millers still believe they have found the best grape growing region on the east coast, and continue to work toward establishing the Atlantic Uplands as a significant American wine district.
Annual Production: 25,000 cases
Futures
Futures tastings are held each July. For details and available wines, please check www.chaddsford.com or call the winery at 610-388-6221.
Estate Vineyard Acreage
The 30 acre Miller Estate Vineyard is in northern Chester County, PA, in the French Creek area and is part of a 300 acre conservancy, among several in the area. Its elevation is about 600 feet, rising about 200 feet above the small valleys on its south and north sides. The Nantmeal site on which Chardonnay, Pinot Noir, Cabernet Sauvignon, Cabernet Franc, Barbera and Vignoles are planted is about 15 acres with maximum sun exposure east, south and west. The land slopes to the northeast at about a 1% grade.

Soils here are gravelly silt loam with 0-6 inches of top soil. There is sufficient organic matter for healthy microbiology underground and vines are vigorous. We crop them at 2-to 3 tons per acre. Vines are 5-15 years old. On the "Drake" side of the hill, Chambourcin and Vidal Blanc are grown on a second site of about the same size, with a 15% hillside slope. Here the soils are much the same, but the site is less vigorous in its growing habits. Cropping is under 3 tons/acre.

Grapes from the Miller Estate Vineyard are typically vineyard designated and bottled as part of Chaddsford's Portfolio Collection. Others make up the winery's regional specialties, Proprietors Reserve White and Red. Chaddsford also purchases grapes from other premium vineyards in southeastern Pennsylvania.
Grape Varieties Planted