Peconic Bay Winery: winery information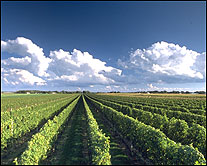 Winemaker: Greg Gove
Greg Gove studied chemistry at Cortland and Columbia Universities. In 1985 he decided to apply his chemistry knowledge to winemaking when he began working at Hargrave Vineyards. After 3 years at Hargrave, Greg moved to Pindar Vineyard where he was intrigued by the wide range of varietals under cultivation there. Greg spent 9 years at Pindar before moving on to set up Laurel Lake Vineyards in 1997. In 1999, after Ursula and Paul Lowerre purchased Peconic Bay, Greg was brought in as winemaker. In his tenure as winemaker at Peconic Bay, Greg has garnered over 50 medals in various competitions. The newest addition to the Peconic Bay line of wines, the 2001 Steel Fermented Chardonnay, won numerous medals including 2 Gold Medals in international competitions, and a coveted Double Gold at the New York Wine & Food Classic.
Annual Production: 6,000 cases
Estate Vineyard Acreage
Peconic Bay Winery currently maintains 64 acres of vineyards.
Grape Varieties Planted