Simi Winery: winery information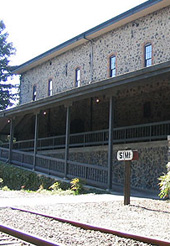 Winemaker: Steve Reeder
Twenty-six years after his first harvest at Alexander Valley Vineyards, Steve Reeder returned to his winemaking roots, becoming Vice President of Winemaking for Simi Winery in August 2003.

A childhood fascination with fermenting things inspired him to earn a degree in Fermentation Sciences at the University of California at Davis. After a brief stint of winemaking in California, he began a ten-year period of winemaking on the East Coast. In 1992, Reeder went to Kendall Jackson, and in 1994 he and his family moved to Healdsburg, to return home. In 1997, he became the Winemaker and Director of Operations for Chateau St. Jean.

At Simi Winery, Reeder has come full circle and has satisfied his aspirations of living up to his Sonoma beginnings. "I'm returning to Healdsburg and the Alexander Valley where I started 26 years ago."
Annual Production: 200,000 cases
Futures
2003 Reserve Alexander Valley Cabernet Sauvignon – releases March 1, 2007.
For reservations, call Damy Tamburrino at 707-473-3236.
Estate Vineyard Acreage
Simi's unique vineyards are the genesis of our distinct wines. Our warm Alexander Valley Estate Vineyards are planted primarily to red Bordeaux varietals and are the source of Simi's Cabernet Sauvignon. These vineyards encompass nearly 600 acres and possess some of the most diverse soils of any wine-growing region, resulting from eons of geologic activity including a catastrophic mudflow which changed the course of the Russian River.

Complementing the Alexander Valley Vineyards, Simi's 120-acre Goldfields Vineyard in the Russian River Valley is the backbone of the Simi Chardonnay.
Grape Varieties Planted