Stevenot Winery: winery information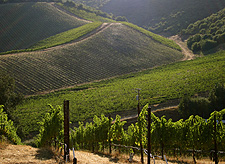 Winemaker: Chuck Hovey
After nearly 20 years as the Director of Winemaking for Stevenot Winery, Chuck Hovey's professional reputation for quality, consistency and excellence is as well established as one of his vineyards.

When asked what prompted his interest in winemaking Chuck replies, "I'll never forget that, it was a bottle of 1971 Buena Vista Pinot Noir. I took one sip and it was as though a light went on. I knew then that I wanted to become a winemaker."

Having fallen in love with the Sierra Foothills on a quick visit through the area, Chuck was thrilled when he was offered a position at Stevenot Winery as Assistant Winemaker. Five short years later in 1988 he was promoted to Director of Winemaking in charge of all production, and so began a Golden Age for Stevenot Winery.

In the last sixteen years Chuck has created some of the most impressive and innovative wines that this region has ever seen. Through his guidance and vision, Stevenot Winery has grown into one of the leading producers for Mediterranean varietals in California, bringing such wines as Tempranillo, Albarino and Verdelho into the mainstream market.

His style is unmistakable – his passion contagious. When the winery was sold to the Munari family in January 2006, their purchase was a package deal based on one important condition; Chuck Hovey would remain the Director of Winemaking.

With the support and encouragement of the new ownership and strong investment in new vineyards, barrels, and equipment, Chuck feels that he has the ability to not only continue his winemaking legacy, but to surpass it.
Annual Production: 40,000 cases
Estate Vineyard Acreage
By far, our largest source of grapes is our own property. Our 500-acre estate surrounding the winery boasts impressive diversity in terrain, vineyard spacing and a total of 18 different estate grown varietals. The combination of climate and geography that the French call "terroir" has enabled us to produce outstanding vineyards of incredible diversity. From the cool-loving Pinot Noir to the heat-seeking Barbera, dozens of micro-appellations exist within our estate, allowing us to carefully adapt our vineyards around their terroir.
Grape Varieties Planted