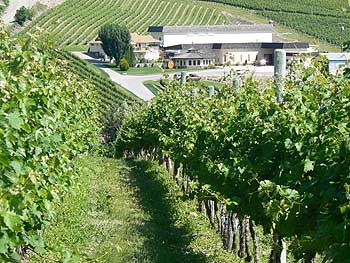 Gehringer Brothers after 20 years: still representing high quality, good value, and refreshing modesty.
Today, when others in the Okanagan are testing the market with $40 to $60 table wines, the brothers sell no wine except Icewine for more than $20 a bottle.
by John Schreiner
June 29, 2006
---
Such is the modesty of the winegrowing
Gehringer
brothers that Walter seemed surprised when reminded recently that this year is the 20th anniversary of the opening of their winery.
Nothing special has been planned for the anniversary. In any event, the first vintage Walter and brother Gordon made for their winery was 1985 – a more important date in Walter's recollection.
<!> He and his younger brother run the most unpretentious winery in the south
Okanagan
. It is the largest winery in
British Columbia
without a web site – just one example of how little desire the brothers have in being flashy. This is one of only a handful of wineries still providing free samples in its tasting room, even though a substantial number of wine tourists stop by during the season.
Indeed, the brothers leave money on the table all the time. From their very first sales season (when they sold out by Christmas), the brothers have charged less for quality wines than virtually all of their peers. Today, when others are testing the market with $40 to $60 table wines, the brothers sell no wine except Icewine for more than $20 a bottle.
For example, this summer Gehringer Brothers is releasing a very well made 2005
Merlot
for just $15 a bottle. This is the best value red wine in the Okanagan this year.
Their father, Helmut, and their uncle Karl, immigrated to the Okanagan from Germany, establishing various businesses before the brothers were born. Walter was born in 1955; Gordon in 1959. The Gehringer family conceived their estate winery in 1973 when Walter was finishing high school. At the time, British Columbia had only half a dozen wineries.
The family went about realizing its objective with meticulous preparation. Walter was dispatched to the renowned University of Geisenheim in Germany. A star pupil, he was the first Canadian in 1978 to graduate from Geisenheim. His brother got his winemaking degree at Weinsberg, another German wine school. The two universities have different approaches: Geisenheim is research-oriented while Weinsberg is more practical. The choice of different schools was deliberate, for it equipped the brothers with different but complementary skills.
While the brothers were at school, their father and uncle spent seven years researching microclimates on the Okanagan. In 1981, the family finally chose a vineyard site, half of a peninsula jutting out into the valley with excellent southeastern exposure. Fourteen years later, they bought the other half and now own 26 hectares of vineyard, supporting (along with purchased grapes) an annual production of about 30,000 cases.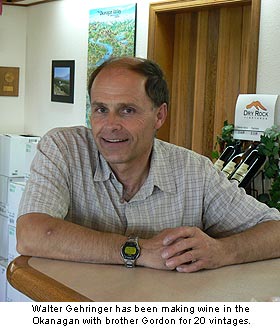 Careful students of climate, the Gehringers initially planted (or retained some vines already planted) white varieties judged either to be winter hardy (such as
Verdelet
and
Riesling
) or sufficiently early ripening (like Schönburger) to be picked long before frost hit the vineyards. In the Okanagan's previous 50 or 60 years of grape growing, hard freezes had a habit of devastating the vines every seven to 10 years. The Gehringer brothers were not taking a chance with risky varieties. Their caution seemed warranted in 1983 when a hard winter damaged many of their Schönburger vines.
As well, the varieties planted were those they had worked with in Germany. Walter, for example, apprenticed at the Guntrum winery on the Rhine. Their training enabled the brothers to launch with white wines, typically Germanic in style, that were clean, fresh, fruity and consistently appealing. Success came quickly. A few years after Gehringer Brothers opened, the federal government did a tasting to select wines for Canadian embassies. The brothers submitted five wines and all were chosen.
When the brothers bought the adjoining half of their peninsula in 1995 (which they call the Dry Rock Vineyard), it still was planted largely with hybrid varieties. They replanted, but not with German varieties; instead, they filled the vineyard with such French vines as
Chardonnay
,
Sauvignon Blanc
,
Cabernet Franc
,
Cabernet Sauvignon
and
Merlot
.
This decision, while somewhat market driven, resulted from the brothers noting that the Okanagan climate is warming and the French varieties no longer are as risky as they once were. Today, there is plenty of data and research to support that. A decade ago, the Gehringers were among the first in the valley to pick up on the warming trend.
Today, the Gehringer Brothers portfolio is remarkably broad. The Germanic whites with which they made their initial reputation remain in the vineyard and remain popular. In fact, Walter believes that the warmer winters have extended the longevity of the vines. He once expected he would start replanting when vines reach 25 or so years but, since there is no sign of declining productivity, he has no idea when he will need to replant.
At the same time, the French vines are performing very well. The Dry Rock Sauvignon Blanc, for example, is as crisp and refreshingly zesty as a New Zealand Sauvignon Blanc.
In recent years, the quality of the fruit from their vineyards has enabled the Gehringers to launch reserve tier wines, designated Optimum.
Predictably, the wines, if understated, are delicious – and priced slightly lower than everyone else's reserve wines.
---
The following are my notes of Gehringer Brothers current releases (all wines are VQA – Okanagan Valley):
Gehringer Brothers, Riesling Dry 2005 ($12.99)
Two decades of making wine in British Columbia have not caused the brothers to forget what they learned about making Riesling in German. They make delicate Rieslings like this, with fragrant aromas and flavours of peaches and citrus. The wine's fruity finish disguises its dryness – there is no austerity in the structure. Clean and fresh, this is a charming Riesling. 88 points.
Gehringer Brothers, Riesling Classic 2005 ($12.99)
This is the same base wine as the dry Riesling, with a similar floral fragrance. The flavours show more peaches, less citrus and the palate is fuller, all because this wine has about 16 grams of residual sugar per litre. This wine, an ideal aperitif, is just as popular with Gehringer consumers as the dry version. Nearly half of Gehringer's consumers choose this style; the other half want dry Riesling. 88.
Gehringer Brothers, Private Reserve Riesling 2005 ($14.99)
A wine with more intensity, more mineral and more citrus than the other Gehringer Rieslings, this reflects what Walter calls "the Nth degree of farming" his estate-grown Riesling. Finished in stainless steel (like most of Gehringer white wines), this Riesling shows weighty, concentrated flavours of citrus and nectarine, with a dry finish. 89.
Gehringer Br