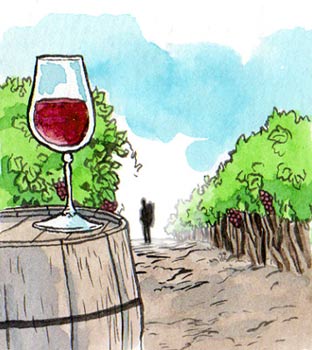 Sonoma County (County Appellation)
A Long Journey for Saint Helena Road Vineyards
Napa Valley Regional Correspondent, Alan Goldfarb, takes the road less traveled as he journeys to Saint Helena Vineyards - ironically located across the Sonoma County border. The question arises: will the quality of the wine in the bottle be enough to get the winery recognized?
by Alan Goldfarb
August 22, 2006
---
There are two ways to get up to Richard and Patty Maier's new
Saint Helena Road Vineyards
, an isolated 60-acre site that exists in something of a nether world, straddling as it does both Sonoma and Napa counties. But location is only one problem for the Maier family.<!> The real question is a simple one, which Patty sums up to a reporter as: "How do we get recognized?" In other words, how does a new small winery get known in a world in which there seems to be five new brands a day?