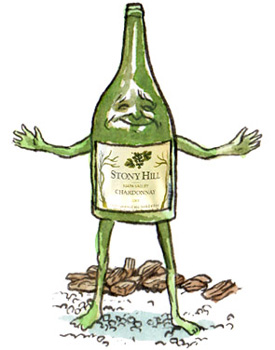 Spring Mountain District ~ Napa Valley (AVA)
Appellation by Reputation: An interview with Stony Hill Vineyard's Peter McCrea
"Stony Hill, for better or worse, is known well enough. I don't think creating an AVA would enhance its reputation."

by Alan Goldfarb
September 22, 2006
---
<!>
ALAN GOLDFARB (AG):
Given your location, why don't you use Spring Mountain on your labels instead of Napa Valley?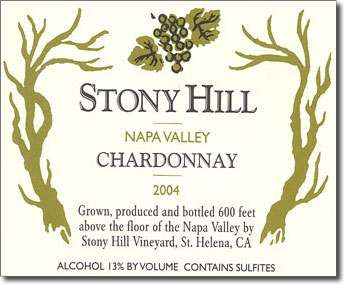 PETER MCCREA (PM):
We've been using Napa Valley for 55 years. We don't want to confuse people with a new label. There's more in the Stony Hill name than an appellation.
All the other wineries on Spring Mountain are on Spring Mountain Road or directly off it. We're miles away from that.
AG:
Have you ever entertained the notion of making Stony Hill an AVA onto itself?
PM:
No. People know it for what it is. Appellations are a marketing phenomena. Stony Hill, for better or worse, is known well enough. I don't think creating an AVA would enhance its reputation.
AG:
Do you think the concept of AVA will ever get away from being just a marketing or geo-political tool and manifest terroir in the bottle?
PM:
If you look at appellations that are successful, they come close to the French model. Elevations are the same, soil types are the same, varieties are the same. The concept of a French appellation has consistency. It means something.
On the floor of the valley they're all planted to the same grapes. Spring Mountain is a bit of a hodge-podge. Elevations range from 600 feet to 1,800 feet. Let's face it, that's quite different from the Médoc. The mountain AVAs of the Napa Valley have a tremendous variety of grape varieties.
AG:
So the idea of a hillside AVA is useless?
PM:
Not useless. If they help people bring identity to their product and thus help people market them. From a personal standpoint, I don't think it helps us because we're not growing the same kind of grapes. (At Stony Hill they grow
Chardonnay
and
Riesling
on 42 acres, while most of the rest of the producers on Spring Mountain grow red grapes.)
AG:
Are there any successful appellations in California?
PM:
The really successful appellations are grower-driven, i.e.
Carneros
,
Rutherford
,
Oakville
. AVAs are there because people have vineyards there. It's the grapes that go with the appellation, not the winery.
AG:
These appellations also focus on a limited number of grape varieties. Why do you make just white wines, when all around you they are producing reds?
PM:
My father planted the whole place in Chardonnay. Chardonnay was an unknown quantity in the early '40s. The others were pushing
Pinot Blanc
, which never did very well here. My father was advised to diversify a little bit. So, he planted Riesling and
Gewürztraminer
. But mostly, he planted Chardonnay because he liked White Burgundy and they did very well.
From our standpoint, we've gotten a niche in the market, so why should we change?
You cannot make Chardonnay in Carneros and make the same kind of wine as here. I think its terroir. Our wines have that flinty, mineral quality. It's because of the soil and climate and the fact that we dry-farm them. The roots are forced to go down and fight a lot harder, which seems to produce a different kind of fruit.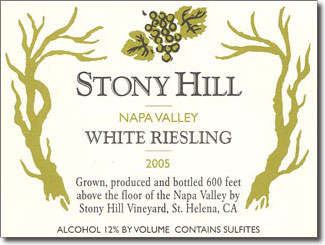 AG:
So, why are your wines different?
PM:
It's some combination of terroir and winemaking style. We've made Riesling from here and Jerry Draper's vineyard (five miles to the southeast.) Draper's is quite a bit heavier in texture with a slightly heavier bouquet and not quite as fruity as ours.
AG:
So is it the terroir of your particular vineyard site that encouraged your father to model Stony Hill Chardonnay after Chablis? Did you ever want to change the style?
PM:
There were no choices in the old days. That was just the way Chardonnay was made in the '50s. My father was pretty thrifty (laughs), so we used our barrels over and over. He did not like a lot of oak in his Chardonnay and malolactic fermentation was an anathema to him.
We also like the wines the way we make them. It's the best way to make wines out of the grapes that grow here. We've sold some grapes to people who use ML and new barrels and you lose the distinctive character of this vineyard.
We have 2,500 people on the mailing list who like this kind of wine and who wouldn't be happy if we changed. We have several generations who know what Stony Hill tastes like.
And our wine is very unique. From a marketing standpoint, to have something that is unique -- no ML, not oaky, shows the true grape character of the wine -- is good. How many wines do you know that someone can pick up the character of where it came from?
AG:
Are you amused by some who are now putting "no oak" on their Chardonnay labels?
PM:
I think it's smart. It's the right thing to do. People forget that people used to make Chardonnay with no ML, and no new oak. Chardonnay is a very, very slow maturing wine. It takes three or four years of development before I would consider the wine to have robust, complex flavor profiles.
Unfortunately, the economics of the wine business doesn't tend to tolerate wine that takes that long to mature. Wineries want to sell that wine as fast as they can to get the cash. It was driven by the economics of the restaurant business: You enhance the short-term profile of the wine, and that makes it saleable.
We still don't sell Chardonnay until it's 2 years old. And then we try and convince our customers to put it down. I think it takes five to 10 years before you should begin to drink it. I think it's the right way to make Chardonnay, but it has to fit your business model.
AG:
And when Peter McCrea talks business models, maybe we all should listen. Stony Hill has been making its wine the same way for over 50 years. Along the way, it has built both an enviable reputation and a very loyal clientele. Somehow, Stony Hill has made Chardonnay fit its business. Hmm, sounds like a good business model, doesn't it?
~ Alan Goldfarb, Regional Correspondent – Napa Valley
To comment on Alan Goldfarb's writings and thoughts, contact him at
Print this article  |  Email this article  |  More about Spring Mountain District ~ Napa Valley  |  More from Alan Goldfarb