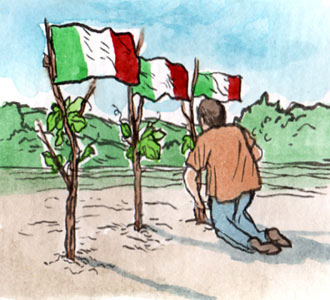 St. Helena ~ Napa Valley (AVA)
Viva Italia: An Interview with Benessere's Chris Dearden
"...The easy answer is that over-used word, 'terroir.' We have warm days and cool nights, which is perfect for a high-acid varietal like Sangiovese. It helps mature the fruit and it doesn't turn it into raisins."
by Alan Goldfarb
October 4, 2006
---
<!>
Alan Goldfarb (AG):
Why do you think Sangiovese does so well on your property?
Chris Dearden (CD):
The easy answer is that over-used word,
terroir.
We have warm days and cool nights, which is perfect for a high-acid varietal like Sangiovese. It helps mature the fruit and it doesn't turn it into raisins. Theoretically, cooler climate areas are the right place for Sangiovese, but I think somewhere like
Atlas Peak
is too cold. Sangiovese doesn't like a site that is too warm either. It's a site specific varietal, a lot like Pinot Noir, although not quite as fickle.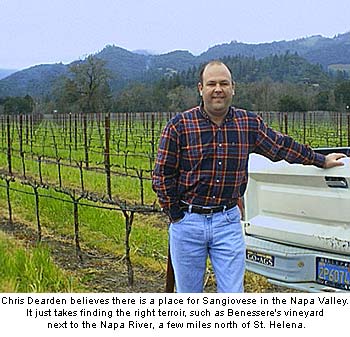 Clonal selection is also important. We have the best clones. We have 12 from Italy, which our consultants from Tuscany recommended. One clone is from Gaia, the others are from Tignanello, Banfi, and Col d'Orcia. They (the consultants) know what works best in Italy and I know how to grow grapes in California.
AG:
Where else can Sangiovese grow well in the Napa Valley?
CD:
Showket
(on the eastern hillside above
Oakville
). That's a good spot. It has good exposure.
AG:
How do you tame Sangiovese? And because you have to restrict the yield in order to get intense grapes, how do you avoid charging a fortune?
CD:
Sangiovese is a prolific producer, you're right. We're down to one cluster per shoot and we charge 30 bucks a bottle.
AG:
Doesn't it absorb oak like a sponge?
CD:
It can. If you overcrop it, you get stuff like cranberry juice. But look at Brunello. I'm not trying to say we're making Brunello, but simple Chianti shouldn't use new oak barrels if the crop levels are high.
AG:
So then, what is your oak regimen?
CD:
I use 25- to 30-percent new French barrels. Some lots we use more.
AG:
Is Sangiovese dead in California?
CD:
No, but I'm glad that a lot of people have gotten out of producing it. There's so much of a Pinot analogy here: 20 years ago, how many solid Pinots were being produced? You could still say that.
What did it take? It took new clones and planting in cooler climates. Sangiovese was the flavor of the month back in the 1980s. It was a hot varietal like
Viognier
was, but nobody wanted to pay the dues and learn about it.
AG:
Will we see a revival someday of Sangiovese in California?
CD:
Not unless there's another "Sideways" that promotes Sangiovese. It's a niche market. (But) with the production we have, we're selling it out. With the '03, we sold out in six months. For us, Sangiovese is still not a household word. It probably won't ever be.
Our goal is: if they think of Sangiovese, they'll think of Benessere. Now with these new clones, the best is yet to come.
AG:
Will your production of Sangiovese increase?
CD:
We've always wanted to make a varietally true Sangiovese. It'll probably top out at 2,000 cases.

But
Cab
is king here, that's why Sangiovese will be a niche variety. I hope people will become more passionate about it. You can't tell me that Brunellos are not coveted.
Back to the Pinot analogy: We're not producing a DRC (Domaine de la Romanée-Conti), but what we're doing (with Sangiovese) is a fine expression of the grape.
AG:
What about the terroir as it pertains to your Merlot and Cabernet?
CD:
This terroir is red wine country.
AG:
What about St Helena? Why is it considered red wine country?
CD:
Chardonnay won't grow well here. Sauvignon Blanc will do OK.
Pinot Grigio
won't do well here. It's great for Cabernet. Look at
Grace
,
Duckhorn
,
Spottswoode
,
Turley
. Our Zins also are doing quite well.
AG:
Aside from the warm days and cool nights, what is it about St. Helena's terroir that makes it work for those varieties?
CD:
There are multiple soil types with multiple typography, rootstocks and trellising techniques, so with that combination, you'll come out with multiple styles.
AG:
Peter McCrea (Stony Hill) thinks terroir is more evident on the valley floor than in the mountain appellations because the latter have such diversity, including multiple elevations. Where in Napa do you see stylistic consistency?
CD:
The smaller the geographic area, the better chance of having a core of stylistic similarities. The wines will be almost like siblings, like in the
Stags Leap District
.
AG:
If more wines were made similarly in one region, we'd have wines of terroir. But, of course, then we'd have wines of diversity because the mitigating factor would be the origin of the grapes.
CD:
I agree, but I don't know if that will ever happen.
~ Alan Goldfarb, Regional Correspondent – Napa Valley
To comment on Alan Goldfarb's writings and thoughts, contact him at
a.goldfarb@appellationamerica.com