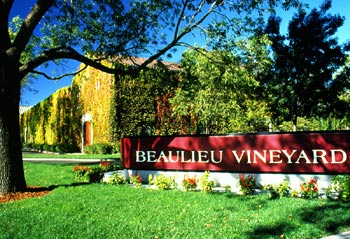 Rutherford ~ Napa Valley (AVA)
The Future Looks Bright for Historic Beaulieu Vineyard: An interview with Joel Aiken
"...we were very proud of the wines we've produced throughout our history. People loved them."
by Alan Goldfarb
October 3, 2006
---
<!>
Alan Goldfarb (AG):
You no doubt have seen many corporate philosophies and cultures during your tenure at BV.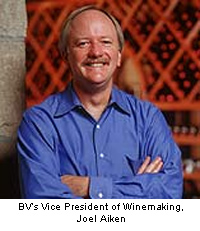 Joel Aiken (JA):
Actually, at Beaulieu, as long as we have been successful, I think things haven't really changed that much.
AG:
Are you given carte blanche?
JA:
Now that we're Diageo and have Chateau & Estates (its high-end subsidiary) in
Napa
, this division is a lot more hands-on, stand-alone division. Day-to-day, I talk to the group down there and then I come back and make the wines.
AG:
What do you think about the folks in St. Helena describing their wine as having "dust," which is the same attribute that those in Rutherford have used to describe their wines? Our St.Helena Discovery Tasting confirmed this. Do you think they've usurped your marketing tool?
JA:
Maybe there was a wind blowing up-valley and they got a little of our dust.
The term "dust" –- specifically as it applies to Cabernet -– was originally started in Rutherford.
(Note: the term has not been trademarked by the Rutherford Dust Society)
.
None of us can consistently define what Rutherford dust is or what it tastes like.
AG:
At that St. Helena tasting, when they used the word "dust," I immediately pressed them to define the term. I know that I've had several discussions with the folks from Rutherford over the years and they've always had a difficult time defining the word.

At St. Helena, they said that dust is not in the aroma and is not a liquid description. It has something to do with texture.
JA:
I'll try to describe what Rutherford is to me. It's a firm backbone, not harsh or overpowering. It helps the great wines of Rutherford to age. They are not simple wines but are full of concentration and firmness.
Rutherford
Cabs
get a lot of cherry and black olives. It's not barnyard, not mushroom-y, but there is something of the earth that is allusive. It's difficult to describe. It is of the earth, (but) it's not like smelling dust that's blowing around.
AG:
At BV, you farm fruit from other locales in the valley. Compare and contrast the Cabernet from those regions to Rutherford.
JA:
Starting in Carneros, which is our oldest vineyard (André Tchelistcheff helped purchase what became Vineyard No. 5 for the de Pins family in '61), we have
Chardonnay
and
Pinot Noir
, but no Cabernet. And in Calistoga we have a lot of
Zin
,
Charbono
,
Petite Sirah
,
Malbec
and
Valdiquié
(which goes into the Beauzeaux blend), but no Cab.
In St. Helena we have some Cab,
Merlot
, and Zinfandel, while in Rutherford, the majority is Cabernet.
AG:
So, do you see differences between the St. Helena and Rutherford Cabs?
JA:
There's not a huge difference because they're only a few miles apart. In St. Helena, the valley is fairly narrow. Our vineyard is just east of Highway 29 to the Napa River, where there are diverse soils. It's rocky and well-drained. It has less of the cherry character that's so pronounced in Rutherford Cab. The earth character is less pronounced (in St. Helena Cab). There's a little bit more black fruit and spiciness but not hugely different than what we have in Rutherford.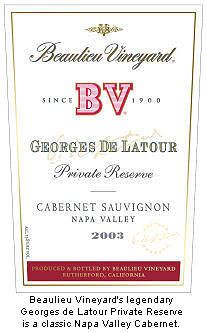 AG:
You've seen, I'm sure, Jim Laube's column ("The Thrill is Gone", Wine Spectator, Aug. 31, 2006), in which he persists in reminding people that you've had a TCA problem in the past. How do you respond to those comments, and what have you done at BV to mitigate the problem?
JA:
I have seen the column, but I'd rather just talk about the wines. Nobody's talked to me about TCA in more than a couple of years. We've put that behind us.
We've done a lot of work in the winery. It had nothing to do with any issues. We've taken the old part of the winery that was divided by five walls and opened it up. And we re-did the floors and drains. They were upgrades that were long overdue. We consolidated the barrel storage and case good storage areas.
We had some wood removed from a barrel warehouse, and resurfaced and sealed it up. The TCA issue really wasn't the focus of what we were doing. It was more of a long-term plan.
AG:
How have consumers reacted to the suggestion of TCA in some of your wines?
JA:
We felt that we were very proud of the wines we've produced throughout our history. People loved them. At the time, we contacted all of our distributors. We don't feel that there's any issue with consumers' acceptance of the wines. I've heard that only a few bottles came back.
We've definitely put it behind us.
~ Alan Goldfarb, Regional Correspondent - Napa
To comment on Alan Goldfarb's writings and thoughts, contact him at
a.goldfarb@appellationamerica.com