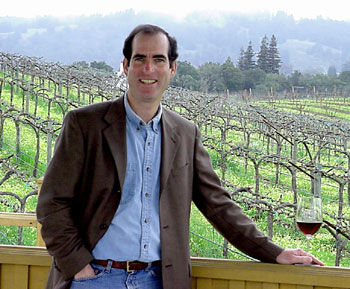 Appellation Versus Vineyard Designation: An interview with John Bargetto
"Some might think areas like Soquel, Green Valley, Corralitos and Woodside have sufficiently distinctive characteristics to warrant sub-AVAs. Frankly, I think vineyard designates should take care of these issues."
by Laura Ness
October 12, 2006
---
<!>
Laura Ness (LN):
A lot of your fruit comes from out of the appellation. When you decided to plant the Regan vineyard, what drove the decisions on what to plant?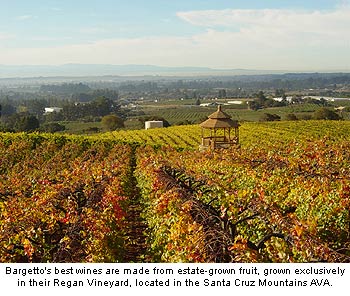 John Bargetto (JB):
Our finest wines now come from Regan Vineyard. We are very proud to have all the wines with a Santa Cruz Mountains designation coming from estate-grown fruit. The vineyard is 50 acres, with about 40 acres planted now. It is in the Green Valley area of Corralitos, at about 600 feet elevation. It's a sunny hilltop that overlooks the Monterey Bay. We began planting in 1992.
LN:
What was your first choice of varieties to plant?
JB:
We decided to plant Chardonnay right away. It was hugely popular at the time, and we knew this climate would allow Chardonnay to do very well. We planted the Mt. Eden clone from Corton-Charlemagne in Burgundy. Paul Masson brought cuttings over from France in the late 19th century and planted them at what is now the
Mountain Winery
. We got the cuttings from the
Cinnabar
vineyard when they decided to pull theirs out. It hasn't migrated much throughout the appellation, but it can be found at Mt. Eden Vineyards. I'm not sure where else.
Author's note:
Silver Mountain Vineyards is among the other locations where you'll find the Mt. Eden clone today. Winemaker Jerold O'Brien reports it is extremely low-yielding, with only about one to two tons per acre. It has tiny berries and intense, weighty-on-the-palate fruit. He notes that wines from this clone are extremely age-worthy, and in fact, do not often begin to express themselves until 3 to 5 years in the bottle. So never, never assume that a 2001 or 2002 Chardonnay from the Santa Cruz Mountains is "over the hill." Au contraire, it may just be getting out of the flats and beginning its long slow climb up the hill.
LN:
What are the characteristics of the Mt. Eden clone?
JB:
In contrast with the more widely planted Clone 4, also called the North Coast clone, the Mt. Eden clone is richer, more flavorful, tends to have minerally characteristics and ripens quite late. We typically pick around October 15. The berries are quite small, as are the clusters.
LN:
What else have you planted?
JB:
We also wanted something Italian in the white department, so we planted Pinot Grigio. It is a beautiful wine and it keeps winning lots of awards (including a Gold at the recent Santa Cruz Mountains Wine Competition).
LN:
Where does La Vita fruit come from?
JB:
The Italian varietals that go into La Vita are all planted at the Regan Vineyard. We have
Dolcetto
and
Nebbiolo
: great varietals from the Piedmonte region as well as Refosco from northern Italy. We vinify them separately and then blend them to make our high end La Vita blend. I think you've sampled it.
LN:
In fact, I love it. I reviewed La Vita for Appellation America. It's an amazingly powerful wine.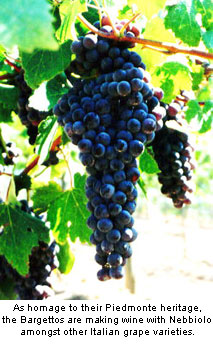 JB:
Thank you!
LN:
What about Pinot Noir? You're making some righteous Pinot from this vineyard also.
JB:
Yes, we have three clones of Pinot: Pommard, Martini and Dijon 115.
LN:
No 666 or 777?
JB:
No. We're traditionalists.
LN:
Can you tell me what the characteristics of these three clones are and why you chose them?
JB:
I'd say our favorite by far is the Pommard. It is our "steady 350 hitter," to use baseball parlance. In fact, we're adding more of it. We like it because it always ripens well and it has a bigger mouthfeel. It's more intense on the palate. Some years, we like the Dijon better. It can have a distinctive bacon flavor along with ripe cherry fruit, a very complex flavour.
LN:
If you could do it over again, would you change your mind on what you planted? If so, what would you plant instead of or in addition to?
JB:
Well, let's talk about Merlot! We planted a lot of it, nearly 13 acres, in the 90s. This was when wine was all about Chardonnay and Merlot. Merlot was the "it" wine. We were so happy with the results of our first planting, that we went ahead and planted a whole second section. We were thrilled with the way the fruit came out: no green, weedy flavors and off colors that are more typical of Merlot from cool climate areas, like parts of Monterey county. This had great ripeness and it was very distinctive. The color is great: it's a deep, deep garnet. There is no fading from the time it is pressed. The natural acidity that is characteristic of this region complements the nose of ripe blackberry and plums. The mouthfeel is supple, both from the natural fruit and the oak program.
You asked what we would have planted instead. Well, we are in the process of grafting over a good deal of Merlot and Chardonnay right now so we are up to 8 acres of Pinot. We intend to add another 2 acres. Talk about the "Sideways" impact!
LN:
How would you describe the characteristics of your estate Merlot vs other Merlots you've had from, say, the Central Coast?
JB:
Not to take anything away from our
Central Coast
Merlot, which is from
Santa Clara County
, as it's our best selling red, but there are clear differences. I would say our estate SCM is bigger-bodied and bigger in structure, and it's built to age. The Central Coast wine is medium-bodied with bright fruit, and it is meant for earlier consumption. It certainly doesn't have the aging potential of the estate.
LN:
Do you think your Merlot is representative of Merlot grown in the Santa Cruz Mountains Appellation?
JB:
It's been a while since I've tasted any examples from other Merlot producers in the appellation, but I would think, based