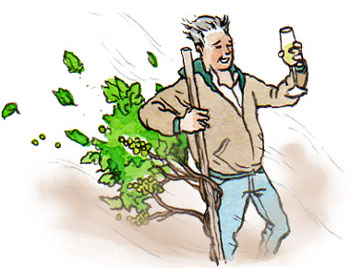 Three decades defining the Arroyo Seco appellation: An interview with Jerry Lohr
"Although our J. Lohr Estates Bay Mist White Riesling and J. Lohr Estates Wildflower Valdiguié wines receive many medals, we think our J. Lohr Estates Riverstone Chardonnay does best in the Arroyo Seco."
by Laurie Daniel
November 7, 2006
---
<!>
Laurie Daniel (LD):
In what way is the Arroyo Seco AVA distinct from the broader Monterey AVA? Does the Arroyo Seco AVA have a defining characteristic such as climate, soil or something else?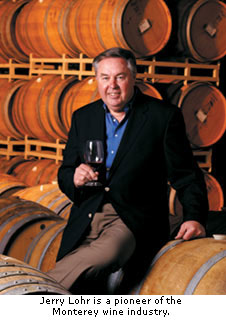 Jerry Lohr (JL):
The Arroyo Seco AVA has two very distinct characteristics. The boundaries enclose by far the largest alluvial fan in Monterey County -- the outreach of the Arroyo Seco. All subsoils are river rock and gravel rather than clay benches. The topsoils are only four kinds: Greenfield sandy or gravelly loams, Arroyo Seco sandy or gravelly loams. The climate is extremely windy because of the "horizontal hour glass" or "Venturi effect" through the appellation. The flanking
Santa Lucia Highlands
is much less windy, and
Chalone
is warmer and less windy.
LD:
You've been growing mostly Chardonnay, along with some Riesling, Pinot Blanc and Valdiguié in Arroyo Seco. Is there a grape variety for which Arroyo Seco is particularly well suited?
JL:
We removed our Pinot Blanc at 30 years of age and have planted the new clones of Pinot Noir, which are available in our Crosspoint label and soon will be in our J. Lohr Vineyard series. Although our J. Lohr Estates Bay Mist White Riesling and J. Lohr Estates Wildflower Valdiguié wines receive many medals, we think our J. Lohr Estates Riverstone Chardonnay does best in the Arroyo Seco. The well-drained soils, harsh winds and cool climate stress the vines so that while we used to be "too fruity," Monterey is now the leading coastal producer of Chardonnay of a very classic style. While Chardonnays grown further north of us in Monterey County are more acidic and Chardonnays grown further south in Monterey are less acidic and are often blended with more acidic Chardonnays, Arroyo Seco Chardonnays stand alone.
LD:
Are there other grape varieties that show promise or that you're considering planting? Why or why not?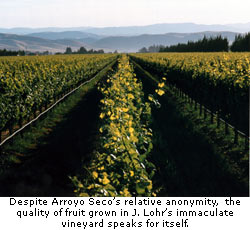 JL:
We think other varieties don't produce appropriate flavors in most years. Our emphasis is on flavor, estate-grown grapes and making the best wine from the vintage. We are going for clonal diversity not varietal diversity. We currently grow five clones of Chardonnay, four of Pinot Noir, two of Riesling and just one of Valdiguié.
LD:
How has the appellation changed in the years since you first planted your vineyard in Arroyo Seco? What year was that?
JL:
We first planted in 1972 and 1973. On the advice of others and as a bit of an experiment, we planted 11 varieties, but as of 1979 we had grafted over to four varieties. We participated in defining the appellation in 1983. The appellation boundary essentially hasn't changed since then. Except for a small portion adjacent to the current Santa Lucia Highlands, the appellation was based on the Arroyo Seco alluvial fan. Tastings over the years have confirmed that the boundaries are correct.
LD:
The Arroyo Seco AVA isn't familiar to many wine consumers. What have vintners in the AVA done to overcome that?
JL:
We vintners have put more emphasis on Monterey. There are hardly enough of us in Monterey County as it is. Brands such as J. Lohr are often stronger than the appellation, thus we are not appellation-driven except in the sourcing of our fruit. If we had to buy any of our four varieties to extend our offerings somewhat, we wouldn't go outside the Arroyo Seco region, based on consistency of flavors and quality.
LD:
What misconceptions do wine consumers have about your area?
JL:
None that I know of. They are recognizing Napa and Paso Robles for Bordeaux varieties and Sonoma, Monterey and Santa Barbara for Chardonnay, with lesser recognition of Sonoma for old vine
Zinfandel
and Monterey for
Riesling
.
LD:
Not content with his pioneering status, Jerry Lohr has continued to update and upgrade his Arroyo Seco vineyards. His upcoming Pinot Noir will represent a new step for him in the AVA.
~ Laurie Daniel, Regional Correspondent – Monterey County
To comment on Laurie Daniel's writings and thoughts, contact him at
a.goldfarb@appellationamerica.com