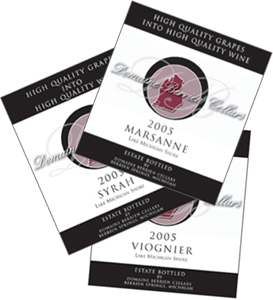 Rhone Varietals Drive Domaine Berrien's Success
"When we opened in 2002, I could not believe the consumer visits we received. We sold out of all our wines in a few months. More people are recognizing the Lake Michigan Shore AVA. Development of the Southwest Michigan Wine Trail increased consumer visits to tasting rooms for the 12 winery members and drew attention to the appellation."
~ Wally Maurer, Domaine Berrien owner/winemaker
by Eleanor & Ray Heald
February 28, 2007
---
Eleanor & Ray Heald (ERH):
Tom Fricke divided his vineyard into three distinct parcels: Martha's Vineyard, Katherine's Vineyard, and Abigail's Vineyard. Was this based on soil composition, exposition or both?
Wally Maurer (WM):
Soils are fairly homogeneous sandy, gravely loam so the vineyard names are more related to planting developments as orchard land was cleared.
ERH:
Which of the varieties grown are in each of the separate vineyards?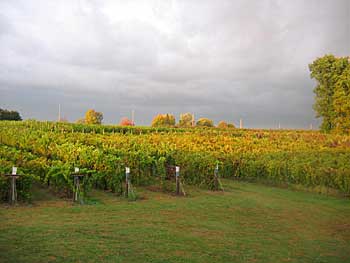 WM:
Katherine's was planted in 1992 to resistant varieties along with
Gewurtztraminer
, Cabernet Franc, Pinot Noir, Pinot Gris, Marsanne and Traminette. In 1995, Martha's was planted to
Seyval
, Vignoles, St. Vincent,
Chardonnay
, Viognier and Roussanne. Abigail was planted in 1999 to
Syrah
, Cabernet Franc, Merlot, Lemberger, Sauvignon Blanc, Cabernet Sauvignon, Malbec and Petit Verdot.
ERH:
What is the typical trellising/training system employed? Is this system effective for bud fruitfulness in a cool climate?
WM:
Vinifera
varieties are on a traditional Scott Henry system with moveable wires and two fruiting wires. Resistant varieties are on a single wire. We use Geneva Double Curtain for
Traminette
and
Vignoles
is on a modified Scott Henry which is spur pruned.
ERH:
What is the typical vine spacing and why was it chosen?
WM:
Vines are spaced 6x8 (6 feet between vines and 8-foot wide rows), which was chosen because of soil vigor. All vines are on 3309 rootstock with which we're happy.
ERH:
What is the pruning method?
WM:
We spur prune the upper cane of the Scott Henry system and cane prune the lower to one bunch per shoot. Vines are also thinned vigorously to 4 tons/acre or 12 pounds per vine. This allows simultaneous ripening of fruit on both the upper and lower fruit zones.
ERH:
Are the vines irrigated?
WM:
No. Lake Michigan lake effect brings significant winter snow and we get rain during the growing season.
ERH:
Where was the budwood sourced for the Rhone varieties Viognier, Marsanne, Roussanne and Syrah?
WM:
Viognier budwood was sourced from Horton Vineyards in Virginia and the other varieties came from Herman Amberg Grafted Vine Nursery in New York. For additional Marsanne plantings, we sent our own budwood to Herman Amberg for grafting.
ERH:
You indicate that Domaine Berrien's vineyards have a similarity to the Northern Rhone Valley of France and the Rhone varieties which you've planted showcase this parallel. Yet, these Rhone-style varietal wines have a regional identity. How do you describe the regional style of these wines?
WM:
Viognier is marked by lush fruit flavors including, pear, melon, peach and apricot. Due to our cooler climate, the wine has nicely-balanced acidity. Marsanne, which is picked near the end of the season at 24 to 25 degrees Brix, has less showy fruit and it highlights minerality, viscosity and mouthfeel.
Roussanne is not bottled as a varietal wine. It's always blended with Marsanne in the ratio of 85 percent Marsanne to 15 percent Roussanne, which adds honeysuckle aromas and fruitier qualities to the blend.
My father-in-law Tom Fricke's insight made Syrah possible. The first bottling from 2005 will be released in June 2007. Currently, it's showing violets, spicy blueberry and dark blackberry aromas with rich clove character.
ERH:
Can we discuss the characteristics of the other red Vitis vinifera wines you produce? Let's start with Cabernet Franc.
WM:
We're purists with all varietal wines but with
Cabernet Franc
, our aim is to produce a Right Bank, St. Emilion-style, 100 percent varietal wine which is medium-bodied with roasted red pepper notes and black pepper spice from the cooperage. We use Minnesota oak barrels 50/50 with French Oak.
ERH:
Pinot Noir?
WM:
It's full-bodied and darker in color than is typical for the Lake Michigan Shore AVA. We believe the darker color comes from Swiss Clone Marienfeld. It's blended with fruit from Dijon Clones 115, 113, 667 and 777.
Aromas and flavors are reminiscent of red Burgundy with cherry, raspberry, spicy and coffee-mocha characters which linger on the palate. It's liquid velvet and one of most popular of our wines with consumers and restaurants.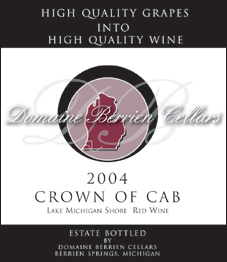 ERH:
Malbec and Petit Verdot?
WM:
We planted 100 vines of each and they are hard to grow. We will not plant more but with the volume that we get each vintage, both add to the overall characteristics of our Bordeaux blend "Crown of Cab" which has all five Bordeaux varietals. Crown of Cab develops two years in French oak and receives six months bottle age before release. The exact blending percentages for 2004 Crown of Cab are 47 percent Cabernet Sauvignon, 33 percent Cabernet Franc, 15 percent Merlot, three percent
Malbec
and two percent
Petit Verdot
.
ERH:
Merlot?
WM:
The last single varietal bottling was from vintage 2002 and now the entire production is used for the Crown of Cab blend. More
Merlot
will be planted so that we can again release a single varietal Merlot.
ERH:
Cabernet Sauvignon?
WM:
Cabernet Sauvignon
is used exclusively for Crown of Cab. As a late-season grape, it's tougher to grow in a cool climate and have it achieve full ripeness.
ERH:
Pinot Grigio - why do you call it this rather than Pinot Gris