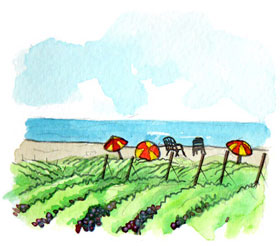 The Garden State Gets a New AVA:
Welcome Outer Coastal Plain
This area is unique because of the long history of farming and its current importance. Farmers know how to grow things. They appreciate that if it is not grown well it will not taste good. Wine is made in the vineyard.
~ Dr. Lawrence Coia, Coia Vineyards
by Lenn Thompson
April 9, 2007
---
Mention New Jersey and like most people, you probably think about The Sopranos, pollution, or the New Jersey Devils hockey team.. But, look a little closer and you'll discover some of the best tomatoes, peaches, blueberries and other produce in the East. It is the "Garden State" after all, and it has earned this nickname with a rich history of growing fruits and vegetables.
Now, with the creation of a new American Viticultural Area (AVA) in the southeaster part of the state — the
Outer Coastal Plain
— New Jersey wineries want to bring wine to the forefront in this agriculturally diverse state.
Growing grapes and making wine aren't new endeavors in Jersey. In fact, the state has a long-lived wine tradition that dates back to colonial times. They've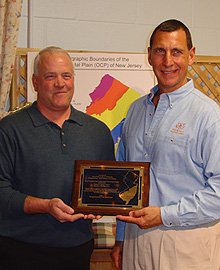 been making good wine there for a long time too. In 1767, London's Royal Society of the Arts recognized two New Jersey vintners for their success in producing the first bottles of quality wine derived from the colonial agriculture. And, Renault Winery, established in 1864 is one of the oldest continuously operating wineries in the United States. Around the same time, Dr. Thomas Welch founded the U.S. grape juice industry in Vineland, New Jersey. Yes, that's Welch's grape juice.
Like many American wine regions, the area's wine industry was nearly destroyed by Prohibition. Even at the end of the Prohibition in 1933 — until 1981 — New Jersey law restricted the number of wineries to one per one million inhabitants, effectively limiting the entire state to only seven wineries.
Luckily, the Farm Wine Act in 1981 turned things around and allowed the industry to grow to its current 30-plus wineries. This law has also made it possible for wineries to sell their wines at five off-site sales outlets.
Improvements in grape growing and wine making techniques and the relatively high per-capita wine consumption of New Jersey residents (4th highest in the nation) have sparked further interest in establishing commercial vineyards and wineries in this new AVA.
An Appellation Designation That Recognizes Unique Wines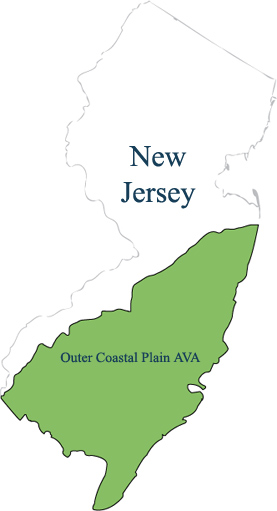 The Outer Coastal Plain AVA covers over 2.25 million acres in Southeastern New Jersey and 20 wineries and commercial vineyards reside there. Producers grow a wide array of
vinifera
, French-American hybrid and native varieties.
Vinifera
varieties including the expected ones —
Merlot
,
Cabernet Sauvignon
,
Cabernet Franc
,
Viognier
,
Chardonnay
,
Riesling
,
Sauvignon Blanc
— but also some interesting selections like
Tinta Cao
,
Nebbiolo
and
Albarino
. One French-American hybrid that bears watching is
Chambourcin
, which does particularly well in the region. (See Lenn's review of the
2004 Chambourcin Riserva
from Four JG's Vineyards)
So what differentiates the Outer Coastal Plain from the rest of New Jersey and other wine regions?
The soil, climate and terrain are all quite different from the surrounding AVAs — Warren Hills and Central Delaware Valley. Dr. Lawrence Coia of Coia Vineyards, describes the soil by saying "The soils vary within the AVA with some very sandy soils that support little vegetation and high acid soils that are best for blueberries and cranberries. The majority of the AVA has more fertile soils that support vegetable growing and orchards. However, our 'fertile' soil is still just loamy sand or sandy loam. It drains very well which is important for grape growing."
Lee Quarella [who first petitioned the TTB for the new AVA] of
Bellview Winery
adds "Our well-drained soils warm up earlier in the spring, stimulating growth and (resulting in) a longer growing season. The draining
qualities of the soil also make controlling vegetative growth and disease control much easier."
Grape Growing = Farming and Visa Versa
It's not just the soils and growing conditions that set the Outer Coastal Plain apart, however. Coia points to the people and tradition as important differentiators. "This area is unique because of the long history of farming and its current importance. Farmers know how to grow things. They appreciate that if it is not grown well it will not taste good. Wine is made in the vineyard. Winemaking has always been a part of life for many of them.
"Try some of the wine made by a forth-generation farmer like Jim Quarella and you will understand what I mean. Jim stopped growing vegetables seven years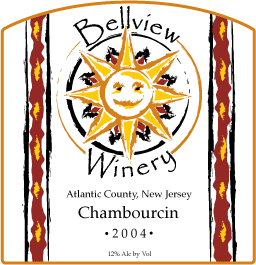 ago and began planting a commercial vineyard and establishing a commercial winery. He has an outstanding vineyard and is producing a variety of wine that goes particularly well with food from local produce."
Most in the area point to Bordeaux, and to a lesser extent the northern Rhone Valley and northern Italy, as regions with similar growing conditions. Coia mentions Long Island's wine region as well, saying "I remember visiting the (Long Island's first vineyard) Hargrave Vineyard around 1976. Their vines were in second leaf. I had just started my own experimental vineyard in Vineland and was deciding on
vinifera
varieties to plant. Louisa Hargrave remarked that the climate and soil types were very similar between South Jersey and the North Fork. Many sweet potato fields in both areas attested to that."
Despite a relatively long growing season, this is still a maritime climate, and most producers recognize that — focusing on elegant, refined wines that pair well with food instead of big, in-your-face fruit bombs with over-the-top fruit, oak and tannins. Quaralla describes the wines by saying that they "generally display subtle fruit with stronger earth tones and are best enjoyed with flavorful meals."
When asked about the best wines coming out of the Outer Coastal Plain, Coia says "In a great growing season, like 1998 or 2005, it would be Cabernet Sauvignon. For year