This appellation, found within the boundaries of the Niagara Peninsula, reaps the benefits of the bench topography which provides the continuous air circulation that moderates temperature and results in consistent growing conditions. Soils are generally deep and well drained and numerous streams provide seasonal water supply. Although a relatively small appellation, the Beamsville Bench exhibits a unique set of conditions that establishes these wines as being some of the best of the Niagara region. Warm summer heat, beginning in May and continuing well into the third week of October, gaurantees a long growing season and fully mature, well ripened grapes come harvest time. Soils vary from shale, limestone, gravel, sand and clay , creating natural unique characteristics to the wines of this appellation.

Embracing Virginia's Terroir
By
Richard Leahy
June 2, 2013
Since Thomas Jefferson first tried to cultivate European vinifera in Virginia, the state has been a decided piece of American wine country. Over the years better knowledge, equipment and materials have all contributed to an advancing wine industry, but the more recent decade or two has brought out the real potential that can be found.   [>] continue

Shake Ridge Ranch - Gem of the Sierra
By
Roger King
May 16, 2013

Tannat, Vibrant Across the America's
By
Barbara Trigg
May 6, 2013

Welcome Middleburg Virginia AVA
By
Roger King
January 4, 2013

Humboldt County: Is Too Much Terroir Possible?
By
Clark Smith
October 14, 2012

Historic Buena Vista Winery Restored
By
Barbara Trigg
September 18, 2012

Three Days in Humboldt County and Willow Creek
By
Barbara Trigg
August 22, 2012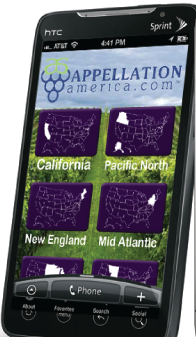 Appellation America Launches New App
By
Roger King
August 2, 2012