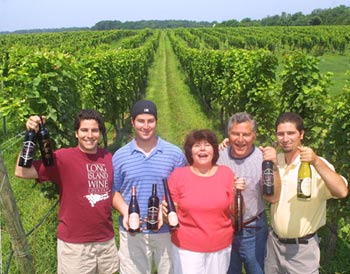 North Fork of Long Island (AVA)
Paumanok Vineyards: A Family Operation
"Many local wineries say they are "family" operations, but this is particularly apt in the case of Paumanok, where the Massouds do most everything and Kareem has the honor of being the Island's first second-generation winemaker."
by Lenn Thompson
September 5, 2006
---
<!>
Lenn Thompson (LT):
Kareem, you grew up along with the vineyard and to some extent the Long Island wine region. What is your first vineyard memory?
Kareem Massoud (KM):
I'd say my first real memory is helping my father distribute and install stakes for the newly planted
Riesling
and
Chardonnay
vines in 1983.
LT:
What was it like to grow up "in the vineyard" as your parents tried to establish a new winery in a new wine region?
KM:
As a teenager, coming out to the vineyard was something of a chore. It wasn't always clear why we were doing this, especially in the days when we weren't making wine. But in 1985, when we crushed and pressed our own grapes for the very first time, in the old garage, it became very exciting. The hard physical labor in the vineyard was always daunting, but, like anything else that requires perseverance, it was very rewarding at the end of a long day to see the results of your work.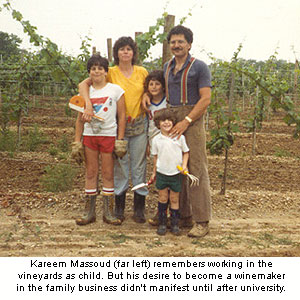 LT:
Have you always wanted to join the "family business"?
KM:
Growing up, I was already "part of the family business" in that my brothers and I did our chores by working in the vineyard. While other kids may have had to mow the lawn (which we did too), we had to pull weeds, lift wires and harvest!
Once I went to college (at University of Pennsylvania), I began to think seriously about my future and a day just came when I decided that I wanted to join my parents at Paumanok upon graduation. I think they felt that that wasn't why they were sending me to an Ivy League school and they encouraged me to find my own way. So I did. I worked for two years for a private investment firm in New York before finally coming back to work at Paumanok. It has been over eight years now that I've been working full time at Paumanok.
LT:
What are some of the changes that you've noticed in the North Fork wine industry over the past 10-15 years?
KM:
The biggest change in the wine industry is the number of participants. When we first started selling wine in 1991, there were about a dozen or so wineries and Long Island wine brands. (As you know, not all the Long Island labels on the market have their own winery.) Today, there are around three dozen wineries and/or brands.
This is good in that the pie is bigger, even if it means that you might get a smaller slice of that pie. A lot of people say, "Oh, the wines are so much better on Long Island than they used to be." That may be true, generally speaking, but of the wines I've been drinking, I feel that quality wines have been made all along on Long Island. It's just that you may have had to search a bit harder for them in the early days. Specifically, Paumanok's 1993 and 1995 vintages across all varieties were outstanding. 1988 was also an outstanding vintage for Long Island.
LT:
What is it that makes the North Fork such a great place to grow grapes and make wine?
KM:
My family is very fortunate to have settled on this special plot of land that straddles the Aquebogue/Jamesport line. Just as in any wine region around the world, the character of our wines is derived directly from the grapes yielded by our vineyard. Grape ripeness is absolutely paramount in making a quality wine. The health of the vineyard and ripeness of the grapes are directly affected by our regional terroir and our specific location.
LT:
What is the "regional terroir" of the North Fork?
KM:
I define terroir as being the net impact of soil composition, climate and local winegrowing culture. The East End's maritime microclimate buffers temperature extremes and, most importantly, creates an Indian summer. As the bodies of water that surround Long Island have warmed over the summer, they retain that heat going into Autumn. This additional warmth in September and October is crucial for grape ripening.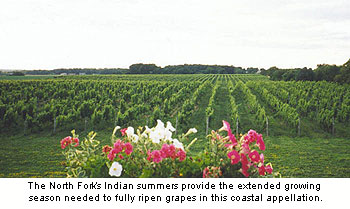 Also, our local soils drain incredibly well. In fact, if this were not true, there would probably be no wine made on Long Island.
Vitis vinifera
vines like well-draining soils. Our particular site in Aquebogue/Jamesport is a sweet spot. Average heat accumulation here tends to be 5-15% greater than points further east, like Cutchogue or Peconic. For many varieties, this may be irrelevant. But for late-ripening varieties, I believe it is vital.
LT:
Do you believe any particular varietals are especially well suited to your vineyard?
KM:
Paumanok
Cabernet Sauvignon
has been singled out by wine critics, and while I would like to believe it is all due to my father's and my own winemaking ability and my family's winegrowing ability, I think it has a lot to do with these specific 16 acres of Cabernet Sauvignon and where they are situated on this planet.
LT:
You and your father are making the wines together now. How would you describe his style? How does your winemaking style differ?
KM:
My father has been my mentor. I have learned more from him than anyone else. And I am his son. I share a lot of characteristics with him and try to emulate him in many ways. In fact, my middle name is Charles. I am however, my own man. And the more I learn, the better I am able to engage my father and myself intellectually as to why we do things the way we do. My father is self-taught as a winemaker. He has always been open to experimentation and I share that desire to constantly improve and innovate. While there may be occasional disagreements as to process, we are always committed to the same goal: producing high quality wines.
LT:
You've recently planted some new vines on the northern North Fork. Tell me about the location, what you've planted there and why you are excited about it.
KM:
We were very fortunate to once again be the first name drawn in a land lottery open to local farmers. The farm which we bought is part of a historic site named Hallockville. It is a 29 acre farm, 12 of which we planted in 2005, four acres each of
Sauvignon Blanc
,
Chenin Blanc
and Riesling.
The new vineyard is exciting because it appears to be excellent farmland. The soil is fertile and has great drainage. It is almost perfectly flat and yet, you never see puddles of water. It