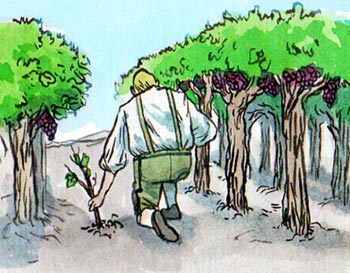 Diamond Mountain District ~ Napa Valley (AVA)
Adding Austrian Flavor to the Diamond Mountain District: An interview with Rudy von Strasser
"Everything up here is red, although there is some Roussanne . It's nice to have a white wine and I don't have that anymore now that my Chardonnay is pulled out. I feel I need a white wine to fill that niche; and, besides, it's a fun process."
by Alan Goldfarb
October 12, 2006
---
<!>
Alan Goldfarb (AG):
Why are you experimenting with Grüner Veltliner?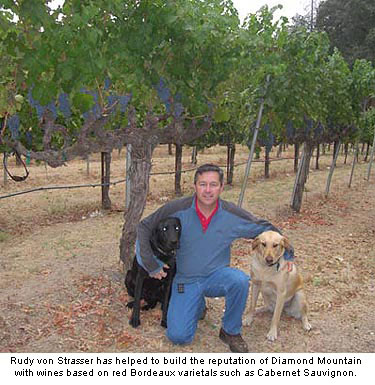 Rudy von Strasser (RVS):
I focus more on the appellation than the variety. That is: I'm limited by appellation and not by variety. I only want to make wines from the Diamond Mountain District. I created the DMD appellation.
AG:
What is it about DMD that makes you so focused?
RVS:
I'm lazy. I don't want to go anywhere else.
AG:
But what is it about DM that attracts you so?
RVS:
I focused on Cabernet Sauvignon at UC Davis and did my internship at Château Lafite. My goal was to find a vineyard (in California) that was capable of making world class Cabernet.
AG:
In the 16 years you've been there, what have you learned about DM?
RVS:
Mostly that the ability to make huge, expressive wines was here. I felt the raw material was here for making world-class Cab. It has concentration, color, tannic structure. … And they've been getting better.
AG:
I've got to say that you've got some audacity growing Grüner Veltliner in a region that exclusively grows red grapes; and in a warm climate as well. Diamond Mountain is not the cool Wachau.
RVS:
There are plenty of places in Austria that have a warm climate. I spent many summers over there. And you can't really decide how something is going to do until you try it.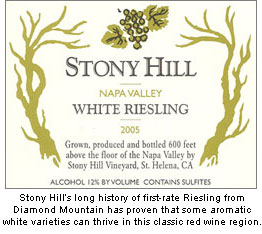 I don't know where it's going to do best in California. After all,
Smith-Madrone
and
Stony Hill
grow
Riesling
on
Spring Mountain
a few miles from here and that's a cool-climate variety.
Where I planted it, the land is more shaded, less exposed, and is too cool for Cabernet or Merlot. It is a site that isn't perfectly suited for Bordeaux grapes.
Unfortunately, no matter how well it does, it may not be economical to grow Grüner up here. If I can get $75-80 for Cabernet, why grow Grüner?
AG:
You've seemed to have answered your own question. So again, why grow Grüner?
RVS:
If I can get in the high 20s (dollars), it might be worthwhile. I don't know how big a market there is out there, even though there are restaurants that are the darlings of Grüner. I'd like to make 500-1,000 cases. I could probably sell it for more than that figure (high 20s) to my mailing list and some restaurants.
AG:
But on a third of an acre, you can't possibly make more than that.
RVS:
There is a chance that I might go outside of my appellation and grow Grüner. I may try to find a grower. I'd like to make more than I can make on my property. I can't really give up any more Cabernet property to do that. And my exposure (direction of the plantings) may not be well-suited. It's in more fertile, heavier soils (than the rest of Diamond Mountain). It's not rocky and it gets the morning sun, but not the afternoon sun.
AG:
Have you looked into trying to find some place else to grow it?
RVS:
I'm going to wait first to see how this tastes. Then I have to find a grower who will partner with me.
AG:
What other sites do you think might be conducive?
RVS:
I'd like to try something in Jamieson Canyon (southern Napa County), or the
Russian River
, or the
Anderson Valley
.
AG:
Again, the idea is pretty audacious, don't you agree?
RVS:
I don't know if it's audacious. It's an experiment. I'm interested in seeing what I can do with it. My gut tells me it'll do pretty well here.
AG:
As far as you know, no one else in California is making Grüner commercially, correct? Is anyone else growing it?
RVS:
The California Farm Bureau has a category it calls "other whites," but it doesn't list Grüner. I'm trying to get them to change that.
AG:
How does your Grüner compare to Austrian Grüners in taste? And how does Diamond Mountain compare to the Wachau?
RVS:
I don't know. It's not even dry yet (it was still in the fermentation process at the time of this interview). I'm not going to get more than 15 gallons. I pushed the crop way back.
I planted on very devigorated rootstock and they are very slow to mature. But it's been harder to get these guys up to stake.
AG:
I understand that you got two vines from Davis.
RVS:
I grew the budwood, but the original came from UC Davis and Dr. (Harold) Olmo from that which he collected from Germany in 1939.
AG:
The budwood is from Germany, not Austria? Why didn't you bring some back yourself?
RVS:
I don't do that kind of stuff. That's not the way our system works. If everyone brought it in illegally, we'd have all kinds of vine diseases. I try to work within the system.
AG:
So, how does it taste?
RVS:
The fruit looks beautiful, it tastes good, and the clusters were fairly large. Once the vines mature, they'll produce a reasonably sized crop. I like the fact the berries were small and the clusters were big.
AG:
What about the acids. Are you able to get enough acidity?
RVS:
The acid was low. We picked at 21 Brix (sugar). But I think that low sugar makes a much more interesting wine anyway. The pH was 3.5, 3.6. Sauvignon Blanc, for instance, if it's picked at 21.5 Brix it would have a pH of 3.3, 3.4. I was a little surprised. But that's not an issue. We're allowed to add acid.
The flavors had a steely character, a floral component like Riesling or
Muscat
. It wasn't super-strong.
It had nice color, slightly on the yellow side of green, and the g