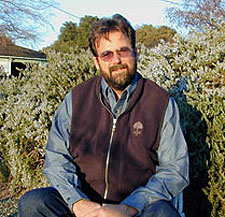 A Trip to the Saratoga Side of the Santa Cruz Mountains
"...ideally we would become known for small producers and even smaller vineyards that yield wines of the highest quality expressing a style in keeping with traditional European structure and finesse."
by Laura Ness
October 24, 2006
---
<!>
Laura Ness (LN):
What do you think the average wine-aware consumer in CA thinks when they hear "Santa Cruz Mountains"? Do we have a story, a particular identity?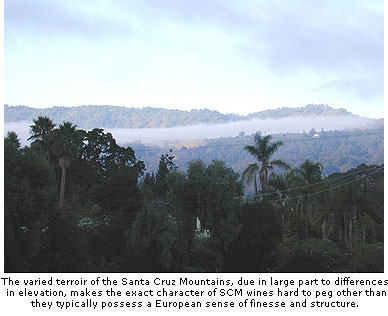 Marty Mathis (MM):
I doubt that the average wine consumer knows anything about the Santa Cruz Mountains. They may know the
Ridge
,
Mount Eden
or
David Bruce
names, but they probably don't know that this is where they are grow their grapes. Our identity will remain hard to define just because the climate diversity of this mountain range allows for fine examples of so many varieties, that I doubt that we'll ever be known for just one. That said, ideally we would become known for small producers and even smaller vineyards that yield wines of the highest quality expressing a style in keeping with traditional European structure and finesse.
LN:
What varietals do you think people associate with our appellation?
MM:
Pinot
,
Cabernet
and
Chardonnay
. Some day we may find a new grape variety that carves out a home here; one that matches well with our soils and cooler climate. The only limitation is the public acceptance and the marketability of new wine types.
Syrah
has not turned out to be easy to sell and many like myself are loosing patience with the public. It's unfortunate, because this may lead someday to the decline of Syrah in California. We have the three main varietals because that's what sells, and no amount of passion from a winemaker can make a new variety successful until the public is ready to expand its buying habits.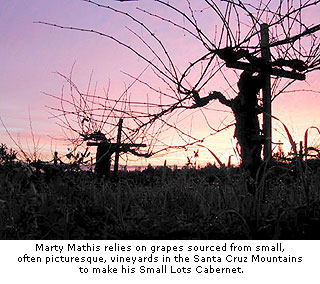 LN:
That's too bad, as I know your '03 Syrah was a big hit at the Sacramento State Fair, where it tied with Storrs for Best Red of Region. Speaking of grape varieties, how many acres of vineyards do you personally have planted and what varieties? Do you plan to add anything?
MM:
My mother, Kathryn Kennedy planted 7 acres of Cabernet Sauvignon in 1973 at her home on Pierce Road. We refer to it as our Estate Vineyard and it represents our highest expression of winegrowing. Cabernet Sauvignon is our flagship wine. I have planted several experimental blocks of other varieties, like
Nebbiolo
,
Tempranillo
and most recently a one half acre field blend using Spanish and Portuguese varieties.
LN:
What drove your mother's decision to plant Cabernet initially? Were there any varieties which proved problematic?
MM:
One of the greatest decisions Kathryn ever made was to specialize in one variety for her entire estate. She might have planted a bit of this and a bit of that, but that wouldn't have allowed the focused effort which she put into making a truly great wine from her land. Even though I have added other wines to our line-up, I continue to be thankful to her for handing down to me that original vision. As for problem grapes; Tempranillo turned out to be highly susceptible to Pierces Disease and most of the 900 vines I planted in 1994 have died.
LN:
Describe the characteristics of the Cabernet Sauvignon from the estate vineyard. How old is the vineyard? What has been the best vintage of this wine you have produced so far?
MM:
Our vines are 33 years old now. The best years are those grown in cooler summers with a long hang time and later harvest dates. '80, '88, '90, '91, '92, '96, '99, '00, '02, are my favorites, at the time of writing this.
LN:
How would you contrast (or not) Cab from your estate with Cab from neighboring Saratoga vineyards? Is there a significant resemblance that makes you say "this is Saratoga Cab?"
MM:
There is a character I'd associate with Cabernets from any location on the valley side of the mountain range, from Redwood Retreat, through Los Gatos and Saratoga and up past Los Altos. It's a spicy mineral flavor, not loamy earth but rather minerally, iron/tar like. To my taste that runs through most of the Cabernet from the warmer side of the Santa Cruz Mountains.
LN:
What are the differences of, say, Woodside Cab in contrast to Saratoga?
MM:
Mostly climate, particularly the temperature. Saratoga being hotter, yields wines with more alcohol and a richer texture, while Woodside has the ability to give wines of great sophistication and elegance, more akin to Bordeaux. The best are very attractive that way.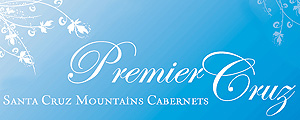 PREMIER CRUZ:
November 4, 2006
Cabernet Has Its Day – Or Rather, Its Evening
---
There are some, such as Fernwood Cellars' Matt Oettinger, who believe the Santa Cruz Mountains AVA is a fabulous place to grow
Cabernet
and other Bordeaux grape varietals. Oettinger, along with Don Reisen (
Ridge
), Wilma Sturrock (Ridge and President of SCMWA), Jeff Patterson (
Mount Eden
) and other producers in the region, has even decided to make a point of it.
Says Marty Mathis of
Kathryn Kennedy
, "We believe deeply in the world-class character of the Cabernets from this area and we personally prefer their style and classic structure to those wines from the better known region of
Napa
. We want to shine a spotlight on our wines to awaken the local population to their existence and give them a firsthand chance to taste many examples on the same night…".
And you will be the beneficiary, if you choose to attend the event which h