Lemon Creek Winery: winery information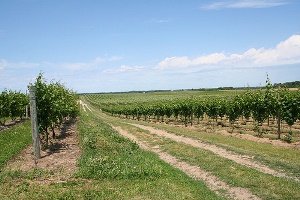 Winemaker: Jeff Lemon
In 1984 Jeff Lemon with his wife Cathy, parents Bob and Helen Lemon and brother Tim Lemon founded Lemon Creek Winery, on the families 100 year old family farm. The vineyard which had been started by Jeff's father, Bob Lemon in the early 1970's was already producing grapes for other Michigan wineries. The production in the first years was minimal and considered a side project to the fruit farm. Since then, the winery has gone from producing 4 varietal wines to 19 and winning numerous international awards. The winery is still 100% estate, using only 40% of the grapes that they produce and selling the rest to other wineries within the greater Great Lakes area. Since 2012, Jeff has been a council member of the Michigan Grape and Wine Industry Council. The winery is currently owned by Jeff, Tim and Robert Junior Lemon.
Annual Production: 9,000 cases
Estate Vineyard Acreage
150 acres are farmed. With the rolling clay loam hills and the moderating effect of Lake Michigan, Lemon Creek Fruit Farm has grown some of the best grapes in Michigan. Robert Lemon, a pioneer in the wine grape growing Industry, and his wife Helen, teamed with their sons in 1984 to establish Lemon Creek Winery. From this came the first commercial planting of Cabernet Sauvignon in the state. The winery continues to distinguish themselves with their most recent success, a Cabernet Sauvignon Ice Wine, to compliment their diversified wine selection. The wine making tradition continues with the help of the newest generation.
Grape Varieties Planted