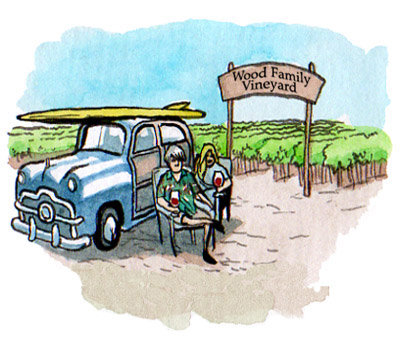 Surfin' through the Wood Family Vineyard's Cellar
"The Wood Family Vineyard is in an idyllic spot in the far eastern part of the Livermore Valley...It's up past the Poppy Ridge Golf Course, towards the zenith of the sky. You feel as if you are heading straight for the clouds, as the road surfs over the rolling, seemingly endless hills."
by Laura Ness
November 16, 2006
---
Despite the preponderance of Woods, there is no Tiger here, but the golden Lab will lick your socks off, if you are not quick to use the winery door as a separator. The beautiful woody wagon that is featured on the winery label is on display, and posters featuring woodies and surfboards are prominent, even though this place is far from the beach.<!>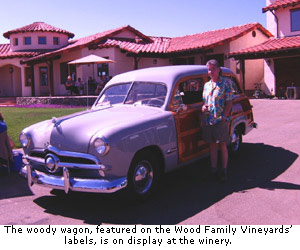 The
Wood Family Vineyard
is in an idyllic spot in the far eastern part of the Livermore Valley, well beyond the hustle and bustle of the main drag on Tesla Road. It's up past the Poppy Ridge Golf Course, towards the zenith of the sky. You feel as if you are heading straight for the clouds, as the road surfs over the rolling, seemingly endless hills. If wide open, vineyard-perfect land appeals, you might want to consider that 160 acres is for sale right smack next to the golf course. Your nearest neighbor would be McGrail Vineyards, planted to
Cab
and owned by two wonderful people, Jim and Ginger McGrail. And the Wood Family Vineyard would be right across the street. You could do worse. If you built a large enough winery, Rhonda Wood, winemaker, might just be interested in crushing at your new place. She has plans to grow, but not necessarily fruit. There's plenty of that in
Livermore
.
The Wood Family Vineyard is part of the amazing and beneficent heritage of the
Wente
family's vineyard plantings under the Tri Valley Conservancy program. Rhonda's 18.5 acre vineyard, all planted to
Merlot
, is still maintained by Wente, and they still take most of the grapes as part of their Crane Ridge Vineyard program. She gets her fair share, despite her initial skepticism about Merlot.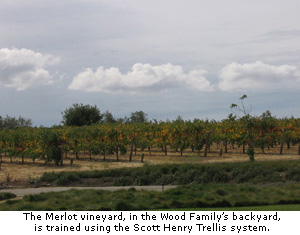 Rhonda's first loves were Cabernet and
Zin
, and she had 9 vines of each planted in her yard before she and her husband moved to Livermore. Now she trades some Merlot for
Chardonnay
from neighboring White Crane winery's Folkendt vineyard, when the birds don't get it all. Since 2003, she and her husband Michael have taken over the maintenance of the historic Raboli vineyard so that she can have her Zinfandel fix. She gets Cabernet Sauvignon from Quail Creek, and Syrah from the Madden Ranch, both located in the Livermore Valley. She also sources Cabernet Franc from the Wente property near the restaurant and golf course: there are only 525 vines maintained exclusively for her by the Wentes. Recently, she's added
Grenache
from the Hansen Ranch to her repertoire, plus some
Petite Sirah
from Clark Vineyard. She typically makes less than 200 cases of each effort, with many less than 100 cases. And it's all Livermore fruit.
Rhonda Wood is a former airline pilot, so she knows where she wants to land. And this land is working out just fine. She got into the winemaking business courtesy of beer, as was the case for many vintners before her…well, that and, the fact that the airline she was working for would not allow her to fly anymore, because she was pregnant. Rhonda heard that beer was good for breast milk, and she reasoned that home brewed would be even better. Soon after her first child was born, she and her husband attended a Harvest Festival in Livermore, fell in love with the place and purchased the 18 acre property. She started helping out wineries like
Livermore Valley Cellars
and
Cedar Mountain
with their harvest, began taking classes at UC Davis, and her career was launched.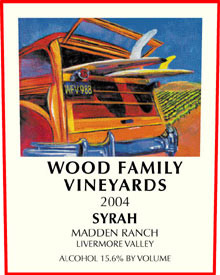 Today, Rhonda is busy raising teenagers, getting ready for her sister's upcoming wedding in the vineyard and measuring the temperatures of fermenting vats of Syrah. While watching the 2006 vintage percolating, we tasted her
04 Madden Ranch Syrah
, from a vineyard she shares with Greg Jenkins and Peggy Fleming of
Fleming-Jenkins Winery
in Los Gatos. This is a big, fat Syrah, made from super-ripe fruit, and aged in American oak. I asked Rhonda how she made this wine. She told me it was picked at 28 Brix and destemmed on September 15th, 2004 into three different bins. It was cold soaked for a day and inoculated on September 18th with two different yeasts: Syrah and L2226. Pressed off on Sept, 25th into two tanks, the wine was gravity racked into barrels on November 13th. After aging for 21 months in 1/3 new, and 1/3 each one-year and two-year old American oak barrels, it was blended and bottled with a 3.78PH, .61 TA and .17% RS at 15.6% alcohol. It reflects the Livermore terroir, with ripe, rich, almost hedonistic flavors and textures.
I was intrigued by the idea of
Cabernet Franc
in the warm Livermore climate. The 2004 was big, earthy and spicy, with a fine finish, due to the French oak, but none of the violets and perfume typical of Francs from cooler climates. She added a touch of Merlot from her vineyard to provide a bit of fruit ($22/bottle, only 68 cases produced).
Speaking of Merlot, the 2004 from the Wood Family One Oak Vineyard is quite a powerhouse, with blackberries and cherries on the nose and a fairly meaty palate. At 14.6%, it's quite exuberant and the 5% Cab Franc adds some nice earthy spice ($22/bottle, 216 cases produced).
The 2003 Quail Creek Cabernet Sauvignon, from a vineyard farmed by Bill and Donna Johnson, is another one originally planted by Wente. When the Wentes realized that they had a bit too much Cab, the Johnsons started making their own, and Rhonda helped them showcase what the vineyard could do. This is a large, well-crafted wine with lovely cherry and tobacco and cigar notes. At only 13.7%, it's a pleasure, and the French and American oak give it a nice finish.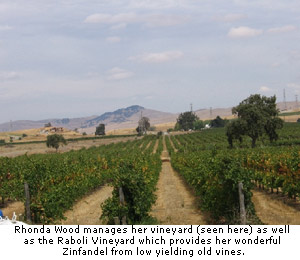 Perhaps Rhonda's pet project is the Raboli Vineyard, originally planted in the early 20th century in very gravelly soil. Still in the Pasquale family, the vineyard offers very low yields, with the 28 acres producing only 2.8 tons this year: that's up from 1.5 tons last year,