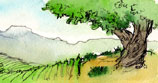 The Santa Ynez Valley has the greatest concentration of wineries in Santa Barbara County. Prior to Prohibition, the valley had as much as 5,000 acres under vine, but it was not until 1969 that commercial viticulture returned to the region. The long valley is bordered by the Purisima Hills and San Raphael Mountains to the north and the Santa Ynez Mountains to the south. The western section benefits from the moderating effects of the Pacific, and is dominated by Chardonnay and Pinot Noir. As one follows the Santa Ynez River east, the elevation rises approximately 800 feet. At this higher altitude, in north-south running canyons, vineyards experience higher diurnal temperature fluctuations and a warmer overall climate. In this environment, Syrah is leading the charge for "Rhone Ranger" wineries in the area.
Amador 4 Fires, A Taste of the Foothills
By
Roger King
March 6, 2015
Besides legendary Zinfandel, Amador County has taken to Rhone, Italian and Iberian variety wines with laudable results. Now the Amador 4 Fires brings the foods of those regions to an open flame to explore a total experience  [>] continue

Gainey Vineyard
Runs Hot and Cold*
By
Dennis Schaefer
January 26, 2009

The Biodynamic Story
of Beckmen Vineyards
By
Dennis Schaefer
April 14, 2008

The Syrah Conundrum:
When Will it Get Respect?
By
Dennis Schaefer
January 22, 2008

Why Firestone Vineyard Was Sold:
Adam Firestone Opens Up
By
Dennis Schaefer
October 23, 2007
[>] see all Santa Ynez Valley features (8)

Bi-State Upper Hiwassee Highlands an AVA
By
Roger King
August 6, 2014

Remote Manton Valley New California AVA
By
Roger King
July 31, 2014

WAWGG Banquet Explores Washington State Terrior
By
Roger King
February 2, 2014