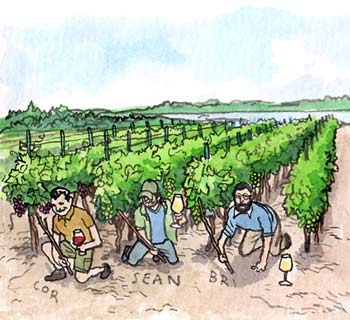 Young Winemakers Forge New Identity for Old Mission
Despite some friendly competition amongst the winemakers of Old Mission Peninsula there is a clear sense of camaraderie in this emerging region. It is also clear, despite their individual styles, they all share a pride of place. As Craig Pinhey suggests, in a cool climate region such as Old Mission it is important to be 'one with the land.'
by Craig Pinhey
July 26, 2006
---
Cornel Olivier and Coenraad Stassen came a long way -- from South Africa -- to
Michigan
's
Old Mission Peninsula
to make wine: good wine, even great wine. Old Mission, like its neighbor to the west, and cousin, at least in terms of terroir,
Leelanau Peninsula
, is a cool climate region. This means, in addition to cold winters and risk of untimely frosts in the spring and fall, vintage variation is expected.<!> Wine savvy consumers actually revel in this, knowing the wines are different from year to year, producer to producer, vineyard to vineyard, and this makes them more interesting, both in their youth and as the wines age.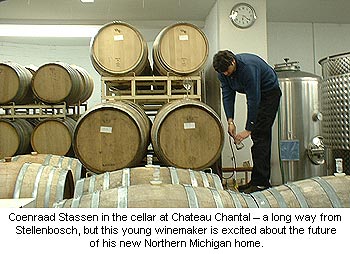 It is important when growing grapes and making wine in a region like Old Mission to be
one with the land
-- that is, knowing the soils, the local climate, and the history, in terms of which grapes do well and which areas make the best wines.
Thus there's lots of
Riesling
here,
Pinot Gris
,
Gewürztraminer
, and some
Cabernet Franc
,
Pinot Noir
and
Chardonnay
, but very little
Cabernet Sauvignon
and
Merlot
.
It is useful for winemakers to work together, especially in emerging regions, and this appears common in Old Mission. It helps that two of the newest winemakers came from the same school in South Africa [via the Ohio State University Viticultural Extension program], and, although they were not close friends there, they have come to know each other very well in Traverse City, even coaching a local rugby team together.
Cornel, who oversees the vineyards and makes wine at the new (2004 was their 1st vintage) boutique-ish
Brys Estate
(approximately 4,000 cases annually), and Coenraad, who shares winemaking duties at the much larger (approximately 20,000 cases annually) and long established
Chateau Chantal
, just a mile or two up the road, are two of the young winemakers thriving in the area.
They are not the only fresh-faced "grape smiths" in Old Mission. It is telling, on my May, 2006 visit, while Coenraad and his mentor and co-winemaker Mark Johnson were pulling 2005 barrel samples from the cellar at Chateau Chantal, who should stroll in but Spencer Stegenga, the young proprietor of nearby
Bowers Harbor Vineyards
. He was clearly welcome.
As wines were sampled at the various estates, conversation often drifted to who was doing what – similarly or quite differently – at the various wineries, such as Sean O'Keefe at
Chateau Grand Traverse
, or, perhaps more pointedly, Bryan Ulbrich down at
Peninsula Cellars
.
Everyone was aware that Bryan won four of six Best of Show medals at the 2005
Michigan Wine Competition
, and all were in anticipation of the yet unreleased results for 2006 from various competitions.
There is a clear sense of competition amongst the group, but that does not squelch the distinct sense of pride in the region. Medals won by any winery here are reflections of the overall quality and potential of tiny Old Mission. After all, five of the six aforementioned State medals came from Old Mission, with Chateau Grand Traverse also picking up a Best of Show; "Best Dry White" for their 2004 Dry Johannisberg Riesling.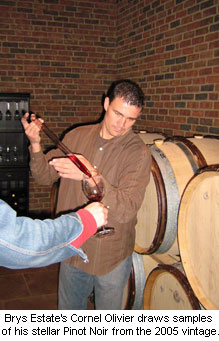 Although terroir is very important, especially in a tiny (there only about 300 total acres under vine) cool climate region like Old Mission, it is interesting to note the variety of wines between producers on this almost needle thin extension into Lake Michigan. While some winemakers focus on building wine around the racy high acid structure provided from the climate, others are trying to wrestle smooth and approachable 'big reds' out of their soil; especially in the better years.
At Brys Estate, Cornel seems focused on his reds more so than whites – making him somewhat of an anomaly in a region long known for crisply acidic Riesling. It seems to be working for him, based on the 2005 barrel samples of Pinot Noir, Cabernet Franc and Merlot. Granted, 2005 was an odd year in Old Mission, producing unusually ripe grapes. This said, his 2004 Cabernet Franc is one of the better reds I've tried this year from anywhere, showing varietal character, finesse and extreme drinkability, and his 2004 Signature, a blend of Cab Franc, Merlot and Pinot Noir displayed richness not normally associated with a cool climate – especially from a so-so vintage like 2004. Cornel doesn't avoid whites – far from it. His Riesling, Gewurztraminer, Pinot Blanc, and blends are all well made and varietally correct. He even had a Riesling Icewine on the go. And showing his South Afircan origins, Cornel also plans to plant
Chenin Blanc
on the Brys Estate – the first on the Peninsula, or in Michigan for that matter.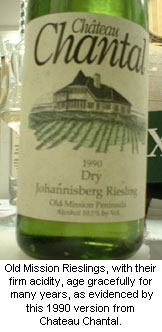 Chateau Chantal, besides being an attractive inn with stunning vistas, is very much a white wine oriented producer, and has been since inception. Their crisp, minerally and ageworthy (we tried a 1990 that was still in decent shape) Riesling and lemon-pear tinged Pinot Gris are important, and then there are 25 acres of Chardonnay. The uncharacteristically hot 2005 vintage was generous, producing brix in the order of 25, boding well for the wines – unless of course you prefer a Chablis style.
There are reds, too, including Mark Johnson's fun and profit generating "Naughty & Nice" red blends, made with a hefty dose of
Gamay
, but we (I was traveling with Adam Dial, Managing Editor of AppellationAmerica) were most impressed by barrel samples of the 2005 Pinot Noir, Merlot and Cab Franc. The latter included one produced from the first crop of a tiny estate vineyard, only yielding a half ton per acre, but showing intense character, including a distinct beetroot nose and flavor we could only assume was terroir related.
I noted some competition even between the winemakers themselves at the same wine