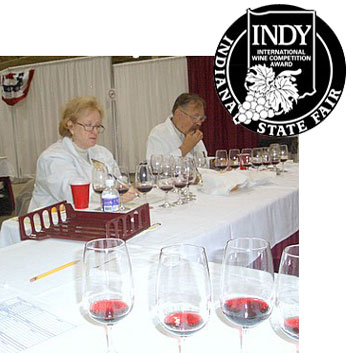 Indy International Wine Competition Revs Up to Number One
With nearly 4,000 wines entered from all over the world, the competition was stiff, but Appellation America Regional Correspondent Laura Ness was pleased to find many standouts from across the US and Canada.
by Laura Ness
August 3, 2006
---
As a judge at the 33rd annual Indy International Wine Competition held this July 27 thru 29th at the Indiana State Fairgrounds outside Indianapolis, I was privileged to taste, along with nearly 90 other wine professionals, an amazing selection of wines from around the globe.<!> With 3859 wines entered, (up from 3685 in 2005), this year's Indy became the
King of the Hill
, with more entries than any other wine competition in the country. This is due in part to the large number of amateur wines entered (835), but nonetheless, it is a formidable collection. The professionalism of the competition organizers, largely from Purdue University, is in a class by itself, and many of my fellow judges said the same. When you are evaluating over 120 wines per day, you need things to run smoothly. And you need an uninterrupted supply of tree-ripened Graber olives, the staple of all decent wine competitions, to keep the palate clean and fresh.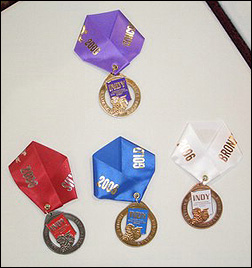 There were 18 panels of 5 judges, each evaluating wines according to a strict numeric score sheet. You assign points for color, clarity, aroma, taste, finish, and overall impression (each allotted a maximum number of points ranging from 2 to 5). The maximum score is 20, with Bronze Medals needing 12 to 14 points, Silver Medals needing 15 or 16, and Gold Medals requiring 17 to 20. We were tasked with the mandate to really make medals count, i.e. "is this wine really worth a medal at all?"
Each judge on the panel reports his or her medal rating and then there is usually some lively discussion. "
What?!
How can you consider giving this wine a medal, it's got V.A. (volatile acidity) up the wazu!" or "This has absolutely no varietal character whatsoever: what are you thinking?!"
Each panel of judges is treated to a wide variety of categories: your panel could get anything from
Chardonnay
and
Merlot
to fruit wines and brandies, even Icewine and Late Harvest dessert wines.
In the end, we awarded 341 Golds, of which 116 were Concordance Golds, meaning all the judges on the panel voted the wine Gold. That roughly translates to less than 10% of the wines entered in this competition winning Gold Medals and less 5% winning Concordance Gold Medals.
Among the most memorable discoveries for me was the 2005 Classic
Ehrenfelser
from
Gehringer Brothers Estate Winery
out of the
Okanagan Valley
in British Columbia. It was categorized as dry, even though it had .5% Residual Sugar (RS). This speaks to the wines impeccable balance, as its razor sharp acidity more than balanced any RS. For a region establishing an international reputation for the quality of its Chardonnay, Bordeaux reds and
Syrah
, it was a pleasure to taste a fine example of one of the Germanic varieties the region established its early success on. This wine had a delightful core of nectarine fruit with really zippy acidity, and a hint of citrus that kept doing pirouettes on my tongue. Please send me a case of this!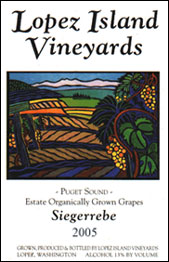 Another of my personal faves was the 2005 Estate grown Siegerebbe from
Lopez Island Vintners
located in
Puget Sound
, Washington. This organically grown wine was the most amazing ruby red grapefruity, zesty, lively wine I've ever tasted. If you love grapefruit, and you really want to shake up your palate on a warm, lazy afternoon, this would do the trick.
We were also thoroughly impressed by a 2005
Mon Ami
Gewürztraminer
from
Ohio
, with 3% RS. Nice acidity, fabulous nose and excellent spice. Also from Ohio, a 2004 Ferrante
Vidal Blanc
Icewine from the Grand River Valley AVA totally rang our chimes. At 21% RS, it might cause diabetic coma with more than a few sips. In the same sugar vein, two more Vidal Blanc Icewines, both from Canada, earned Gold from us. Both wines were from
Magnotta
; one a 2004 Limited Edition VQA from the
Niagara Peninsula DVA (Designated Viticultural Area)
, and the other a 2004 Limited Edition VQA from the
Lake Erie North Shore DVA
. These wines, despite their high sugar, also have great balancing acidity and are simply stunning. Really worth exploring!
One more wine worth mentioning was the seriously well-made 2003
Bodegas Aguirre
Petite Sirah
Estate Reserva from
Livermore Valley
.
While in the "usual suspects" categories, we liked the following (gee, almost all from California!):
Three Thieves, 2005 Chardonnay (California)
Rutherford Vintners, 2003 Merlot (Napa Valley)
King Estate, 2004 Pinot Noir, Signature (Oregon)
Kendall Jackson, 2003 Cabernet Sauvignon, Grand Reserve (California -- 67% Sonoma, 29% Napa, 4% Mendocino)
Villa Mt. Eden, 2003 Cabernet Sauvignon, Grand Reserve (Napa Valley)
St. Supery, 2003 Cabernet Sauvignon - Estate, Limited Edition (Rutherford, Napa Valley)
But in the end, this year's
Best Wine of Show
came from Canada -- a 2004
Riesling
'Five Vineyards' Icewine from
Mission Hill
Family Estate in
British Columbia
. A statement in its own right!
---
A Look at Some Results for California
Of the 3859 entries in this year's Indy International, 3389 entries were from North America, with 772 from California, and a remarkable 271 from Indiana alone. I suppose with such a huge competition, I expected there to be more wine entries from California: after all, we have more wineries in this state than in all the r