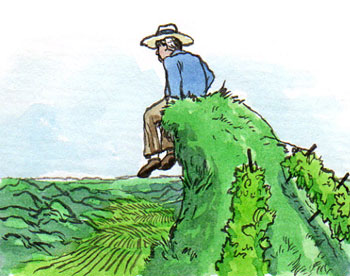 Atlas Peak ~ Napa Valley (AVA)
Talking Terroir from atop Atlas Peak: An interview with Jan Krupp
"I'm a better farmer than I was 10-15 years ago. When Paul Hobbs tells me "it's a Stagecoach year," or, when Erin Greene (the winemaker at Pahlmeyer) tells me her grapes are some of the best she got in this year, I think I'm doing very well."
by Alan Goldfarb
October 27, 2006
---
<!>
Alan Goldfarb (AG):
Have your prices gone down because of the reported grape glut?
Jan Krupp (JK):
They're going up. They slipped a little last year. But new people are quite willing to pay $5,000 for Cabernet. Merlot is a little softer, but will go up a bit from last year.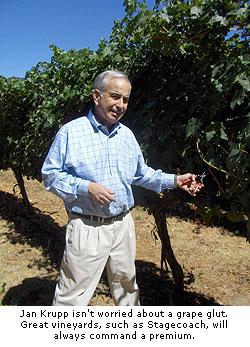 Dan's (Berger)
report is accurate for Napa in general though. But for someone with a really good vineyard that farms properly with a distinct terroir … prices will go up this year and next year. If he (Berger) had looked at top-rated vineyards where people are looking at significant improvements, he would see that prices are not falling.
AG:
Your property is actually in Foss Valley and not technically in the Atlas Peak AVA (American Viticulture Area). Is that right?
JK:
Foss Valley is part of Atlas Peak. We also have the Krupp Vineyard (33 acres), which is close to the Atlas Peak Vineyard east of the Stags Leap District AVA. The Stagecoach Vineyard is northwest facing. ABout a third of Stagecoach (500 total acres) is in the Atlas Peak AVA, the rest is outside the AVA in Pritchard Hill. The Krupp Bros. Vineyard (27 acres) is two miles away, also in Atlas Peak, and slopes southwest. There is a different micro-climate, and it's a little warmer.
AG:
How did you acquire such a large, contiguous parcel?
JK:
I started with the Krupp Vineyard and $10,000 worth of raw land (Stagecoach cost a reported $3,000 to $6,000 an acre upon purchase). I spoke to a lot of people and they all thought it would be a terrific place to grow grapes. It was above the fog, rocky, had well-drained soil, and the exposures were good. I spoke with (growers) Peter Nissim, Armando
Ceja
, and Will
Nord
.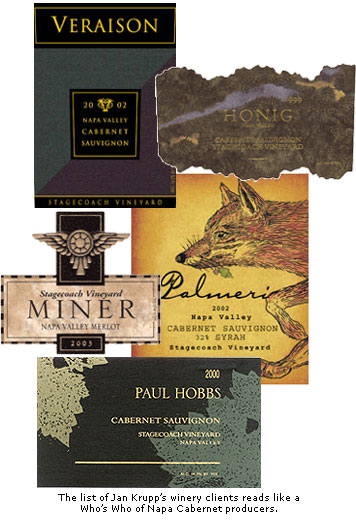 AG:
Yes, but some people told you that planting your vineyard there, with all the boulders, was "insurmountable."
JK:
That was certainly true when I took the plunge for the 750 acres, which have become Stagecoach. They didn't know how good the grapes would be because I was new at it. (He was originally an internist).
My brother (his partner) said I was crazy. Jess Jackson looked at it and
Warren Winiarski
thought about becoming a partner but they felt that it wouldn't work.
The grapes turned out to be better than I was.
The rock contractor estimated that he pulled out a billion pounds of rock. But it wasn't only because of the rocks. No one ever found water there; and there was no way in or out. Oil drilling technology located five spots and drilled to 300 feet. We didn't find water but I didn't quit as he suggested.
So, I hired a water witch. He said we'd find an underground river and I thought he was crazy. Sure enough, the river was at 400 feet. We went another 100 feet at all five spots and there was water. Then I bought another 200 acres.
AG:
Six years ago, Chris Howell of Cain Vineyards said that you're like Gallo (in Sonoma), having bulldozed so much land.
JK:
A billion pounds of rock is a lot, but it wasn't really on the scale of Gallo. We respected the terrain and terroir and didn't try to get rid of the terroir. … Rather than remake the landscape, we planted as intelligently as we could.
AG:
I should mention that at the same time, Howell praised you for your foresight.
JK:
Chris was one of my early fans and I appreciate that. Jess Jackson thought about buying the whole thing. But he didn't think it could be done.
AG:
What is the viability of the Atlas Peak region when so many wrote it off after Sangiovese went into the toilet?
JK:
Atlas Peak has a distinctive terroir. It's above the fog, most of the soil is thin, it's sheltered from the sun, the wines drink younger than some other appellations, but they still have great structure and ageability. The flavor profiles are different than
Rutherford
or Calistoga.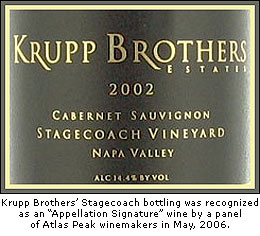 And we're just starting to learn those things. In addition to great Cabernets,
Pahlmeyer
gets its
Chardonnay
from Atlas Peak. There are a lot of positive things. Unfortunately, we became identified with Sangiovese.
But it's also a great place for Cabernet (editor's note:
Krupp Brothers 2002 Stagecoach Vineyard Cabernet Sauvignon
was selected as an "Appellation Signature" wine by a panel of Atlas Peak winemakers"), Syrah, Malbec, and Merlot. Like the Merlot on
Spring Mountain
, it is very distinct. It's less of a fruit bomb, with more structure. It almost reminds me of Cabernet in its youth and then softens. Mountain Merlot is pretty special.
AG:
Can you plant any more vineyard?
JK:
We bought another 160 acres a couple of years ago and we're hoping to plant another 100 acres … for the current Stagecoach, with open spaces for plants and animals. … If we get the permit, we'll be able to plant next to the very best blocks of Cabernet, Syrah,
Petit Verdot
, and Malbec.
AG:
Can you handle any more clients?
JK:
I think I can. Some of the people who've had trouble with the grapes have fallen by the wayside. They were large customers, and I replaced them with small ones. The larger wineries didn't do very well with wines (from Stagecoach) in the $8-15 range. Their assumption was that if they got Stagecoach in a booming market, they'd do well. But, because of the cost, the grapes didn'