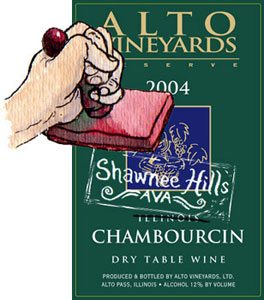 Illinois granted its first AVA: Dynamic advantages recognized
"In a wine world that's becoming increasingly homogenized, the Shawnee Hills AVA stamp confirms the region's capability for producing unique wines that are distinctly regional."
~ Ted Wichmann, AVA petitioner and Water Valley Vineyard owner
by Eleanor & Ray Heald
December 11, 2006
---
Shawnee Hills AVA in southern
Illinois
was recognized on November 29, 2006 by the Alcohol and Tobacco Tax and Trade Bureau (TTB). As such, it becomes the state's first AVA, effective December 27, 2006.<!>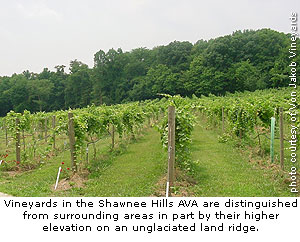 As it is for all AVAs, the designation now allows producers to include the AVA-designation on grape-based wine labels when 85 percent or more of the volume is derived from grapes grown within the delimited area. Additionally, wineries within the AVA will, for the first time, be allowed to use the term "Estate Bottled" for wines produced on the same property as grapes are grown.
"In a wine world that's becoming increasingly homogenized, the Shawnee Hills AVA stamp confirms the region's capability for producing unique wines which are distinctly regional," said Ted Wichmann, petition author and owner of Water Valley Vineyard, who submitted the AVA application in 2001 for TTB approval.
A glance at Illinois topography, Wichmann noted, indicates that most of Illinois, north of Carbondale, was glaciated. Shawnee Hills was not and therefore has higher elevation, with hilly ridges at 800 to 1,000 feet elevation. The AVA is bordered by the Ohio and Mississippi Rivers and spans an 80-mile east-west corridor in southern Illinois along an unglaciated land ridge which runs 20 miles north to south.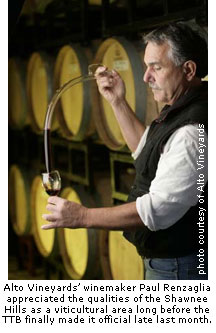 Among other geographic and climatic characteristics which make the AVA well-suited to grapegrowing are the region's sandstone and limestone-based soils which offer good water drainage in an area that has abundant rainfall.
Seyval Blanc
,
Chardonel
,
Traminette
and
Vidal Blanc
among white varieties and
Chambourcin
,
Norton
and
Chancellor
among reds have found Shawnee Hills a suitable cooler climate, yet one sufficiently warm each growing season, to offer consistent ripening.
Paul Renzaglia, general manager, winemaker and co-owner of
Alto Vineyards
(Alto Pass, IL), the first commercial winery post-Prohibition in the AVA, explained that his 12-acre vineyard had predicted success for grapegrowing early-on because it's in a fruit-growing belt. "Early and late frosts are avoided and we have less disease pressure," Renzaglia indicated.
"White wines from the varieties which we grow in Shawnee Hills are fruitier in both aroma and flavors. Because we can get varieties riper, they also have deeper color and better body. Red varieties have the most potential, especially Chambourcin. Compared to other places in which it's grown, Shawnee Hills Chambourcin has more intense black cherry, dark plum and dark berry characters.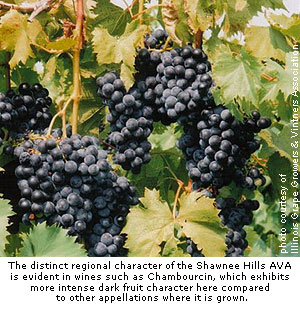 "Having the AVA recognized brings validity to our beliefs in the promise of the area."
In 1980, Wichmann planted the Shawnee Hills first commercial vineyard since Prohibition in Cobden, IL. He continues with the same varieties -- Niagara, Norton, Chambourcin,
Vignoles
and Seyval Blanc. He especially touts Norton, which, because of a longer hang time potential, is rounder with reduced acidity (this latter being a difficult aspect of the variety).
"Chambourcin," Wichmann continued, "is our flagship grape, like Pinot Noir for Oregon. Grown north of the Shawnee Hills AVA, it doesn't get fully ripe. But it does in Shawnee Hills because we seldom have a frost incident before November. In addition to deeper fruit characters, Chambourcin develops cedar and cigar box aromas and complex coffee-like flavors.
"Chardonel is the best white from both grower and wine perspectives. It can be barrel fermented, go through malolactic fermentation and be aged on the lees. Traminette develops unique flavors. When cold-soaked on the skins, it's spicy like Alsace Gewurztraminer. Both dry and semi-dry styles are possible."
For the future, Wichmann also sees a potential for
Vitis vinifera
plantings of
Chardonnay
. "This prospective expands with global warming," he said. "For the last seven years, we've not had a winter below zero degrees Fahrenheit. From December through March, Shawnee Hills climate is impacted by weather systems from the Gulf of Mexico and if anything, our winters are warmer.
Click here
to read the TTB's final ruling document recognizing the Shawnee Hills area as an AVA.
"I predict that
Cabernet Franc
is our best red to come. It's almost as cold hardy as Chambourcin."
Within Shawnee Hills AVA, there are currently 18 wineries and 55 vineyards covering about 300 acres.
~ Eleanor & Ray Heald, Regional Correspondents
To comment on the Healds' writings and thoughts, contact them at
heald@appellationamerica.com