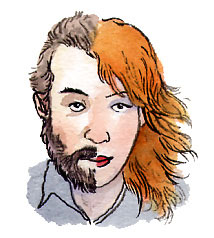 Norton | Cynthiana
Your history is crazy, even a little wild. You first surfaced in the state of Virginia as Mr. Norton, a man with a regal character. Proudly American, but respected in Europe where they flattered you as the "best of all nations". Then we met you in Missouri, posing as a demure and elegant lady, impressing with subtle charm. The locals knew you as Miss Cynthiana, their 'Cabernet of the Ozarks'. As it turns out you were a little mad, for Mr. Norton and Miss Cynthiana, you are one in the same! You've been diagnosed with a split personality affliction.

Appellations Growing Norton | Cynthiana Grapes
Appellations producing the most Norton | Cynthiana wines:
Norton | Cynthiana Grape Details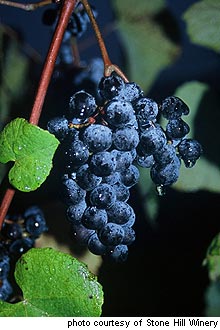 Norton (aka. Cynthiana, Virginia Seedling, Norton's Virginia Seedling)

Norton, also known as Cynthiana, is the oldest native North American varietal in commercial cultivation today. The cultivar belongs to the aestivalis species of vine, which by American wine standards is ancient. As early as 1770 renowned Philadelphian botanist John Bartram made note in his horticultural journals of a native vine type that was popular amongst mid-Atlantic colonist who domesticated it for its usefulness in winemaking – the cited vine type is now reasonably believed to be Vitis aestivalis, and is quite likely the antecedent to the variety we know today as Norton.

The cultivar itself has origins that are shrouded in as much mystery as is as is Zinfandel, although receiving considerably less attention from ampelographic sleuths than is the popular west coast grape. As a named variety, Norton is attributed to Richmond, Virginia physician and ardent gardener, Dr. Daniel Norborne Norton, and first became commercially available by 1830. It is uncertain whether Dr. Norton's gift to the wine world was the result of a selected seedling, or if it was a natural or purposely made hybrid.

Whatever its exact origin, the variety quickly became the staple grape of a booming Virginia wine industry. The successes of Norton wine made Virginia wine internationally famous in the second half of the 19th century. German settlers in Missouri also adopted the agreeable variety and established a prosperous industry there. In 1873 a Missouri wine made from the Norton grape was awarded "Best Red of All Nations" at an International competition in Vienna. In fact, so highly regarded was Norton that in the early stages of Europe's recovery from phylloxera, Norton was earmarked as the varietal savior of their ravaged vineyards. However, the vine's intolerance of the highly calcareous lime based soils typical of French wine growing regions saw its quick fall from popularity.

Nearly two centuries after the cultivar made its debut in Virginia, Norton continues to maintain a presence in that state's vineyards, albeit its prominence has given way to more recent vinifera arrivals. The center of Norton production today has shifted westward into Missouri and Arkansas, where it is the signature of the wine industry in those states, and generally the top wine on most wineries' lists. One of the vine's greatest attributes is its resistance to fungal diseases. This makes it especially attractive in these humid southern states, where it is locally referred to as the 'Cabernet of the Ozarks'.

As Norton, the variety typically produces rich deeply pigmented wines with spicy, raspberry-scented aromas, hints of coffee and bittersweet chocolate, good aging potential, and little 'native' character. Under its Cynthiana moniker, the wine is often a fresher, lighter-styled, red wine suitable for drinking at an earlier age.

Historically thought to be two different but related vines, recent DNA evidence has confirmed that Cynthiana and Norton are indeed identical cultivars, although the exact parentage is still undetermined but thought to involve the native American V. aestivalis species and a hybrid of V. labrusca x V. vinifera.

In the mid-Atlantic and southern states, the grape has a dedicated -- almost cult-like -- following of winemakers and consumers. However, despite the high quality of the wine and its highly marketable all-American image, Norton's fame has been slow to spread to all corners of the continent. Perhaps the greatest hindrance to Norton's wider recognition, aside from prohibitive shipping laws which have restricted the wines distribution, is the challenge it presents to vine propagators. Norton, like other varieties of Vitis aestivalis, presents problems for traditional propagation methods as it is reluctant to root from hardwood cuttings, and supplying vines for vineyard expansion can take a protracted amount of time.

Ozark Highlands
A Wine Rite-of-Passage
in the Ozark Highlands
By
Tim Pingelton

Ozark Mountain
Crown Valley Winery on the Way Up with a Down Under Winemaker
By
Tim Pingelton

Missouri
Spring Freeze Leads to Summer Squeeze
By
Joe Pollack