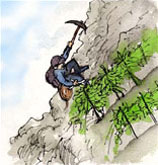 Nestled in the Mayacamas Mountains overlooking the opening of the Napa Valley is a small, 25-square-mile appellation that produces colossal wines of mountainous fame. The vignerons of Mt. Veeder range from recluses and dairy farmers to artists, musicians and businessmen. It takes a love of the vine, unrelenting patience and sheer guts to grow grapes on this rugged, volcanic mountain. The slopes are steep, the soils are thin and the viticulture is back-breaking, but the result is intense, chewy wines with distinctive wild berry fruit flavors and magnificent spice. The region's area totals around 15,000 acres, with over 1,000 acres under vine. Some vineyard slopes here are as much as 30 degrees, allowing more direct exposure to the sun, as well as providing superior air drainage, reducing climactic extremes. The wines of Mt. Veeder are a testament to the efforts of vignerons with rare passion.

Bi-State Upper Hiwassee Highlands an AVA
By
Roger King
August 6, 2014
In the southern Blue Ridge Mountains of North Carolina and Georgia vineyards are small and few, yet the establishment of the Upper Hiwassee Highlands could bring much more.  [>] continue

Will Malbec Find a Home in the Napa Valley?
By
Alan Goldfarb
May 13, 2009

Mount Veeder: A Diversity of Directions
By
Alan Goldfarb
October 19, 2007

THE HESS ULTIMATUM
By
Alan Goldfarb
August 10, 2007
Wines from Another Era: an interview with Mayacamas Vineyards' Bob Travers
By
Alan Goldfarb
November 15, 2006

Goldfarb's Pressing Matters:
Three generations looking for the Grail on Mount Veeder
By
Alan Goldfarb
November 28, 2005
[>] see all Mount Veeder ~ Napa Valley features (7)

Remote Manton Valley New California AVA
By
Roger King
July 31, 2014

WAWGG Banquet Explores Washington State Terrior
By
Roger King
February 2, 2014

Taking Focus on Appellation
By
Clark Smith
December 9, 2013