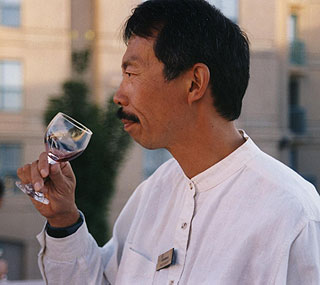 An interview with Sandhill Master Winemaker, Howard Soon
''When a guy buys a bottle of wine, it is an expression of a place. When we are tasting wine from the Okanagan Valley, it should have a taste that is different from Australia.''


~ Howard Soon, Winemaker - Sandhill Wines
by John Schreiner
April 10, 2006
---
<!>
John Schreiner:
What was the genesis of the single vineyard concept with Sandhill?
Howard Soon:
I can't claim credit for it. I think it was collusion with the marketing department. Perhaps some wineries don't have the communication channel between marketing and production. We do. We have always had that because we are brand focused.
Calona had the Artist Series. I kept wanting to slip the grape growers in on the back label. It was important to me. I felt you've got to give credit to the guys who are growing the grapes. Marketing said: "Howie, that's not the right place for it."
At the same time, Burrowing Owl Winery started up. We were partners with Jim Wyse [whose family now controls the winery]. We made the first vintage, 1997, for Burrowing Owl in our winery [Calona], working with
Bill Dyer
[Burrowing Owl's former consulting winemaker].
Marketing [at Cascadia] had the concept that we needed to push up into the premium area with our wines. They asked what we could do.
I said: "One of the simplest ways of going premium is single vineyard wines. Let's give credit to our growers." We decided to use the best vineyard we could – Burrowing Owl.
Sandhill captured a lot of the wishes and desires of other people who came to the table. For instance, Dick Cleave. I have known him for years – ever since he was growing grapes at Pacific Vineyards. That is where Burrowing Owl is now. [The former Pacific Vineyards, originally planted in the 1960s with hybrid grapes, was also briefly owned by Calona until it was sold in the early 1970s. Cleave was the long-time vineyard manager there. Most of the grapes were pulled out in 1988 as part of the industry's adjustment to free trade and the land was largely idle for five years until Wyse and his partners bought it and began planting vinifera.]
Dick Cleave got through the free trade period [when most of Pacific Vineyards was pulled out] by growing market vegetables. He was growing peppers and stuff. He established a new home and vineyard, seven acres in size. He started growing grapes and selling them to home winemakers. They were pretty good grapes. Even I didn't realize how good they were.
He said: "Howie, I want you to make some wines for me." I said: "Dick, I work for Calona and Sandhill. I'll see what I can do."
His first fruit was 2000 – three years after the first Sandhill wine [from BOV]. I made some Syrah, just under 20 cases. It was superb Syrah, but it was only one barrel. But we realized that Dick had something going there, so his Phantom Creek became the next vineyard we brought on.
Then we talked about whites for Sandhill and decided to bring in the King family with Pinot Gris. (We couldn't do the Pinot Gris from BOV even though we owned some of the fruit because it was all dedicated to Burrowing Owl.)
It was almost a no-brainer. The King Pinot Gris went into the 1999 Calona Artist Series that won best white wine of show at the Los Angeles County Fair. What we are trying to do is bet on sure things, things that we know have a history.
JS:
If you are doing single vineyard wines, how does terroir express itself?
HS:
First of all, you have done the right thing by not mixing the vineyards all up. I don't think you can do terroir if it is not just a single vineyard. They have to go hand in hand.
I believe terroir is a quest. It is a process, which is the way we do our wines, too. We're always trying to make better wines, so we focus on process, not outcome. We are always doing the best with everything that we do in the vineyard, then the wine takes care of itself.
We do have some ideas and goals as to what the outcome should be. But it kind of takes care of itself if you have good grapes. We make decisions to protect and express the terroir, and not be a winemaker that goes over on top of the fruit.
Really to me, terroir is the expression of the fruit quality. Our slogan is "a true expression of the vineyard" and that's what we are trying to do.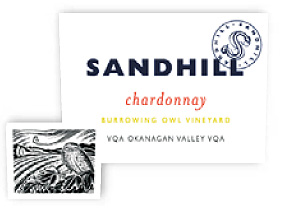 We do use barrels, but like seasoning in food. We don't do malolactic fermentation in
Chardonnay
anymore – although we may go back a little bit some day. But right now, I am happy: if we have great Chardonnay fruit, we will barrel-ferment it, because the oak needs to be there as a seasoning. But I don't need ML because ML interferes with the fruit expression. It takes away the individuality. The vineyard can be expressed if you allow fruit to come through, not the ML.
There's a situation where site selection is also part of terroir. You don't grow something that doesn't work. You would not grow
Gewürztraminer
in that vineyard and say, that's the terroir of Burrowing Owl [because the site is too hot for the variety].
JS:
With eight or nine vintages from BOV behind you, how has the fruit evolved?
HS:
I think there has been more depth of flavour and more nuances, particularly with varieties that are more on the marginal side. Like
Sangiovese
or
Barbera
. 2003 was a hot, ripe vintage and we are seeing those varieties produce great wine. In a marginal year like 2001, not so much – a thin wine with not very much flavour. You would say there is not too much terroir expression in that wine. Fully ripened fruit, when it suits the vine, will give us the terroir we want.
JS:
Is there a variety that performs well every year?
HS:
Chardonnay. But we have had issues with nematodes down there. We are replanting.
Pinot Blanc
is one of the oldest blocks we have at BOV. It is pretty exciting to see how it is coming along, from just simple fruit-forward wine to wines with all sort of nuances – lime rind, minerals. Everybody thinks that the terroir expression is the taste of the soil or the rock. I believe the sand [at BOV] is granitic because the cliff behind it is all granite. I believe there is ground-up granite in that sand and maybe that's the minerality that we are tasting [in the wine].
JS:
How old are the Pinot Blanc vines?
HS:
They must have been planted in 1985 … pre-free trade. I remember making a 1987 Pinot Blanc.
JS:
Have you made the Pinot Blanc the same way every year?
HS:
We have since the 1990s. It is barrel-fermented in American oak. There is a lineage of awards and acclaim for that wine.
It's not heavy oak. I say that a touch of oak reflects skill. I look for that when I taste other people's wines. It shouldn't be the main thing you taste. If there is too much oak, then you are not protecting the terroir. You are flavouring the wine and I don't think that is right.
When a guy buys a bottle of wine, it is an expression of a place. When we are tasting wine from the Okanagan Valley, it shoul