Hermes Vineyards: winery information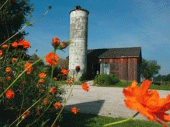 Winemaker: David Kraus
Dr. David Kraus is owner and winemaker at Hermes Vineyards and Winery. By trade a psychiatrist in private practice in New York City, wine making is truly a labor of love for Dr. Kraus. It has been almost a decade since Dr. Kraus decided to plant a vineyard, choosing to plant in Sandusky to pay tribute to his family history and finding that Sandusky's chalky limestone soils and long, temperate growing season help maximize flavor development in grapes.
Annual Production: 2,500 cases
Estate Vineyard Acreage
Hermes Vineyards and Winery has nearly 30 acres of vinifera, including Rhone, Italian and Spanish varieties.
Grape Varieties Planted