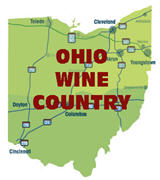 Ohio: Oldest Brand-New Appellation in America
by Clark Smith
July 24, 2009
The wine regions of Ohio have provided us with overwhelmingly convincing proof that their venerable status as world class players is well deserved. If your taste runs to classic vinifera wines of aromatic intensity and good acidity, I cannot name a region in the New or Old World which offers such varietal and stylistic diversity, whether you're in search of a special collectible for your cellar or a jolly good drink that will amaze tonight's guests.
[>] see full story
Related Stories...

Formed thousands of years ago when glaciers carved out the Great Lakes and deposited a ridge of fertile soil ideal for the cultivation of vineyards, the Grand River Valley (AVA) benefits from a climate moderated by the thermal effects of Lake Erie to the north.

The Valley's contours promote the effective circulation of warmer air, reducing the threat of frost in the spring and extending the growing season so the grapes are able to ripen to perfection. This micro-climate characterized by warm, sunny days and cool nights, which makes it one of the best viticultural areas to be found, and also one of the smallest in Ohio. These gentle slopes also help carry away the rainwater from the vine roots, preserving the concentration of flavor, sugar and other quality attributes.

Within a span of 10 miles you can visit the best the region has to offer including the areas largest estate wineries as well as some of the most unique and boutique. Wines, of more European style, are focused to Chardonnay, Pinot Gris, Riesling, Pinot Noir, Cabernet Franc. Other reds include Cabernet Sauvignon, Syrah and Merlot. Hybrid and indigenous varietals are also found and flourish in this region.
Amador 4 Fires, A Taste of the Foothills
By
Roger King
March 6, 2015
Besides legendary Zinfandel, Amador County has taken to Rhone, Italian and Iberian variety wines with laudable results. Now the Amador 4 Fires brings the foods of those regions to an open flame to explore a total experience  [>] continue

Bi-State Upper Hiwassee Highlands an AVA
By
Roger King
August 6, 2014

Remote Manton Valley New California AVA
By
Roger King
July 31, 2014

WAWGG Banquet Explores Washington State Terrior
By
Roger King
February 2, 2014

Taking Focus on Appellation
By
Clark Smith
December 9, 2013

Whitehall Lane Winery, A 20 Year Story of Vineyards
By
Roger King
July 15, 2013

Embracing Virginia's Terroir
By
Richard Leahy
June 2, 2013

Shake Ridge Ranch - Gem of the Sierra
By
Roger King
May 16, 2013