Fulkerson Winery: winery information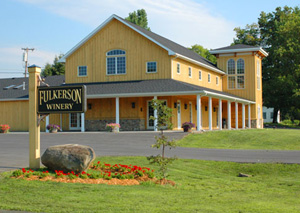 Winemaker: Sayre M. Fulkerson
Sayre graduated from Cornell University in 1975 with a degree in pomology -- the study of fruit production. He began his career in winemaking at Glenora Wine Cellars.
Annual Production: 25,000 cases
Estate Vineyard Acreage
106 Acres -- 30+ vinifera, hybrid and labrusca grape varieties used for Fulkerson Wines and the Fulkerson Home Winemaker Grape Juice Plant (Sept – Oct only).
Grape Varieties Planted