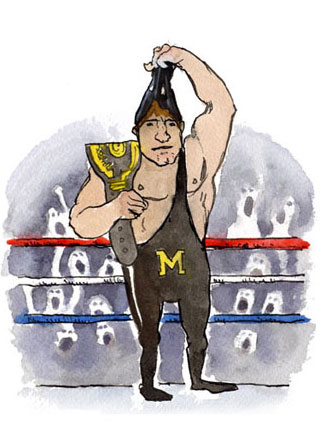 Mourvedre | Mataro
You're a brawny red brute. They know you as Mourvedre in the vinous wrestling rings of southern France. In that circus of appellations you step into the ring with an ensemble known as the All-A.O.C Bunch, although next to you, most of this competition is rather feeble. To be sure, you deliver colorful performances, with a rough and rustic edge, leading the thirsty crowds to chant "Animale, Animale, Animale". For the American circuit a more macho name was required. Over here you became the Mighty Mataro! Initially popular in the crushing rings of Southern Cal's Cucamonga, your popularity eventually waned. It's a good thing that you're thick-skinned. You rolled with the punches and are now making a comeback in the Bay Area, thanks to a group of promoters known as the 'Rhone Rangers'.

Appellations Growing Mourvedre | Mataro Grapes
Appellations producing the most Mourvedre | Mataro wines:
Mourvedre | Mataro Grape Details
Mourvèdre (aka. Mataro)

Mourvedre is a hot-climate variety that buds and ripens late, making it desirable in areas prone to late spring frosts. Very thick-skinned and resistant to fungal diseases and rot, Mourvedre has been planted in Californian and Australian vineyards, under the name of Mataro. In the Golden State, most old plantings exist in Contra Costa County. Its more modest yields may have caused the grape to drop in popularity over the years while other Mediterranean varieties, like Carignane, were favored because they supplied greater tonnage.

Mourvedre's better qualities shape the meaty wines it produces, with considerable tannin, deep color, jammy blackberry characteristics, and frequently a herbal, almost sage-like characteristic that the French refer to as "animale". However, recognition of Mourvedre's merits has been slower to emerge in the New World. Even so, devout Rhône specialists, like Cline, Bonny Doon (Old Telegram), Qupe and Rosenblum, are leading the now trendy Rhône varietal craze.

In southern France, the importance of Mourvedre is becoming better understood and acreage is rising. Widely believed to have originated in Spain's Levante regions, the grape has had four centuries of more common use in France's Mediterranean vineyards. All along this coast, its appealing traits have made it an important bulking-up grape for blending purposes, in wines dominated by the more translucent Grenache.

Paso Robles
Is Paso Robles the Rhône Region of America?
By
Laura Ness

Paso Robles
Tablas Creek Terroir:
A Sense of Place
By
Harry Haff
Santa Ynez Valley
Clay Brock is on Top of the World...
er, the Mesa
By
Dennis Schaefer

Paso Robles
Are Screw Cap Wine Bottles Sensible or Not?
By
Eleanor & Ray Heald