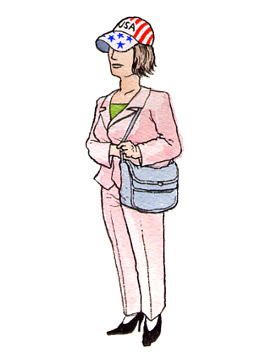 Pinot Gris | Grigio
You've earned top reviews working the stages of Alsace, where you are a local legend, even outshining your famous cousin Pinot Noir. In Alsace, you give such wonderfully textured and layered performances, but the north Italian producers prefer to cast you in lighter roles. Like many Euro starlets before you, you have been summoned to perform for North American audiences. But which act should we anticipate? Regardless of what the credits say -- Madame Gris or Signora Grigio -- from British Columbia to California, your fans applaud your efforts.

Appellations Growing Pinot Gris | Grigio Grapes
Appellations producing the most Pinot Gris | Grigio wines:
Pinot Gris | Grigio Grape Details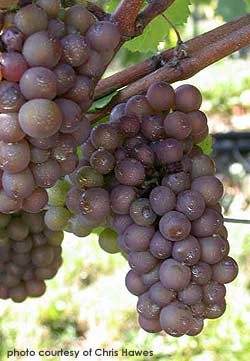 Pinot Gris (aka. Pinot Grigio, Tokay d'Alsace, Ruländer, Grauburgunder)

Labeled either Pinot Gris or Pinot Grigio in North America, this variety has proven hugely successful in the cool vineyards of the Pacific Northwest and British Columbia. It is also increasingly grown in California, to counter the demand for Italian Pinot Grigio, and to court the increasing ABC (anything but Chardonnay) sentiments of wine consumers. Pinot Gris in California can be more variable in style and quality than its northern counterparts, as the grapes have a tendency toward low acidity when subjected to warmer and more intense ripening conditions. A mutation of Pinot Noir, the grape can range in color from gray-blue to pink.

Few varieties demonstrate as well as Pinot Gris the degree to which geography and site selection can result in divergent styles of wine. The grape may be most familiar to wine consumers as Pinot Grigio from northern Italy. There, it is responsible for vast quantities of generally neutral, crisp white wines. Only occasionally does it produce wines with the grape's signature honey and floral aromatics. In Alsace Pinot Gris is known to locals as "Tokay" and is regarded, along with Riesling, as the finest of its noble varieties. In this gastronomical mecca, Pinot Gris is considered to possess red wine capabilities on the dinner table. It produces powerful, rich, highly-textured wines, with intense aromatics of honey, wild flowers and smoke. Going under the names Ruländer and Grauburgunder in Germany, the variety produces decidedly un-Germanic white wines. Reaching its peak in Germany's most southern vineyards of Baden, Ruländer can produce lush, sweet-honeyed versions. As Grauburgunder, it is typically oak-aged, producing more subtle Burgundian-styled wines. In North America, Pinot Gris is at home in Oregon's Willamette Valley. Here, it produces a cross between Alsatian Tokay and northern Italian Pinot Grigio. Typically, Oregon Pinot Gris are medium bodied wines with fresh aromas and flavors suggestive of melon and apples, refreshed by cleansing acidity.

Russian River Valley
THE ABCS of J
By
Rosina T. Wilson
Leelanau Peninsula
Circa Estate Winery Attempts Timelessness
By
Eleanor & Ray Heald

Anderson Valley
Alsace Wines Fested in Anderson Valley
By
Dan Berger

Lake Michigan Shore
Round Barn Winery's
World is Not Flat
By
Eleanor & Ray Heald

Leelanau Peninsula
Auxerrois has found its best home
By
Eleanor & Ray Heald

Santa Lucia Highlands
Santa Lucia Highlands Vintners Carve Out Artisan Niche In Monterey
By
Laurie Daniel

Old Mission Peninsula
2 Lads Winery's Success
is 2 Good to be True
By
Eleanor & Ray Heald

Prince Edward County
Prince Edward County Wineries Achieve Finesse and Flavor
with Low Alcohol Wines
By
Craig Pinhey